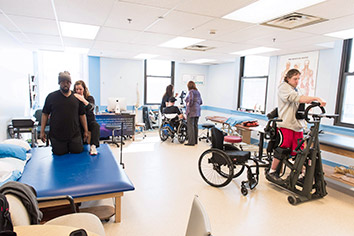 After a diving accident in 2010 left him paralyzed from the neck down, it took nearly two years and a brief move to Utah for Chris Leeuw to be able to walk and drive again.
Now, Leeuw is determined to give other patients that same chance.
The 32-year-old opened the doors of the NeuroHope rehab clinic on Feb. 18 to offer patients more time to recover and to help them remain healthy in spite of their immobilizing spinal cord and brain injuries.
"Neurologic injury takes months and sometimes years of intense rehabilitation to maximize recovery and a lifetime of maintenance," Leeuw said, but unfortunately, "Insurance runs out quickly, no matter how great the plan."
Most rehab hospitals and clinics are set up to deliver only the services paid for by insurance. But NeuroHope is trying to develop a low-cost operation that provides care—including specialized equipment not available in Indiana—for as long as patients need it.
Leeuw, who, before his injury, was executive aide to entrepreneur Scott Jones at Indianapolis-based ChaCha Search Inc., has raised $80,000, bought specialized equipment, and hired two therapists to launch NeuroHope.
The not-for-profit clinic is using space donated by the University of Indianapolis' Krannert School of Physical Therapy in the Southeast Community Services building in Fountain Square.
To meet the needs of patients, Leeuw wants to expand. He already is looking for new space that would give NeuroHope 7,000 to 10,000 square feet. That would allow the clinic to add a therapy pool with an underwater treadmill and other pieces of equipment.
He said he needs to raise about $800,000 to really put NeuroHope on firm financial footing.
Changing the economics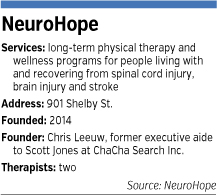 The clinic currently operates Mondays, Wednesdays and Fridays. Leeuw, a former TV news reporter, supports himself by working at Zionsville-based software firm Hc1.com. NeuroHope's therapists work other jobs in addition to seeing patients at NeuroHope.
But to remain viable long term, Leeuw knows he needs to change the economics of long-term rehab.
Patients who suffer spinal cord and brain injuries, or who have a stroke, typically receive insurance reimbursement to stay in a rehab hospital for two to four weeks, said Nora Foster, the lead physical therapist at NeuroHope.
After that, private health insurance plans typically pay for about 30 outpatient visits a year, each lasting 45 to 60 minutes, Foster said.
"You just see a lot of cases where people could improve with more time," said Foster, who continues to provide physical therapy for Community Health Network and Trilogy Health Services, as well as teach at the UIndy Krannert School of Physical Therapy.
Private health insurance coverage varies widely. That's partly because different employers have different benefits for rehab. In addition, insurers such as Indianapolis-based Anthem Blue Cross and Blue Shield try to tailor the extent of their coverage to how a patient's recovery is progressing.
"Anthem's clinical staff coordinates closely with the patient's rehabilitation team. If there is evidence that the patient is benefiting from the program and is making progress toward reasonable and established goals, then a determination may be made that acute inpatient rehabilitation should be continued," wrote Anthem spokesman Tony Felts in an email.
"When the patient's goals are met, or if the patient's progress reaches a plateau, a determination may be made that the patient can function effectively in an alternate, less intensive setting such as an outpatient program, skilled nursing facility, or with the necessary support, home health care."
While current practices by insurers and providers make sense statistically, Leeuw acknowledged, they don't work for all patients.
In his own situation, his insurer allowed him to stay at the Rehabilitation Hospital of Indiana for eight weeks—about twice as long as usual—because he was showing signs of progress. But when he left, he could only move his fingers and his right foot. He had to be carried out of the hospital on a stretcher.
Leeuw later spent time at a nursing home and then lived for 17 months in Utah to rehab at the Neuroworx center, an extended-rehab facility Leeuw is trying to replicate at NeuroHope. Neuroworx has rehab equipment not available in Indiana, and allowed Leeuw to do rehab work every day for multiple hours each day.
More therapy, more often

Leeuw
NeuroHope is trying to change the situation in Indiana in two ways: longer therapy sessions and more therapy sessions.
During a recent visit, it took 30 minutes to get patient Randy Blaylock into NeuroHope's newest piece of equipment, a functional electrical stimulation cycle, which uses electricity to stimulate patients' muscles as they move them.
Blaylock has been in a wheelchair since suffering a gunshot wound to his back three years ago. He received therapy from Foster at Community and recovered enough to be able to drive a car on his own.
But he said he needs more to keep himself healthy. Patients immobilized by a trauma can develop pressure ulcers from sitting too long; can see a loss of bone density; and can gain weight, which brings its own health problems.
"The first year, I was gung-ho," said Blaylock, 44. "But for the past year, I hadn't been going to therapy. I needed something."
NeuroHope schedules its patient visits to last one to two hours, then allows patients to stay and keep using the equipment with light supervision by Foster and NeuroHope's other therapist, Donna Peterson.
Peterson was the first therapist who worked with Leeuw during his stay at the Rehabilitation Hospital of Indiana.
The second problem is that 30 outpatient visits isn't enough, in the eyes of Leeuw and Foster.
Patients can, of course, pay out of pocket for more therapy.
NeuroHope patient Ariane O'Connor said he's willing to do that, if his insurance plan from his job at Eskenazi Health won't pay for all the therapy he needs at NeuroHope.
O'Connor, 29, woke up one day in July 2013 and his left leg would not move. He later learned he has an autoimmune disease called tranverse myelitis. Through therapy, he progressed from a wheelchair to a walker and now a cane.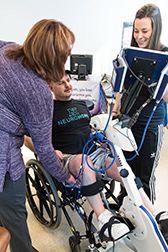 Patient Randy Blaylock works on an electrical stimulation cycle at NeuroHope to regain use of his legs. (IBJ photo/Eric Learned)
"My goal is to get off the cane," O'Connor said. "Even if [insurance] doesn't work out, I will pay out of pocket."
But Leeuw knows that most patients won't have enough money to pay $300 or more per visit—and to do that with the frequency and duration required to recover from a major injury or to sustain health over many years.
Charging less
So Leeuw plans to charge about $100 per outpatient visit. Or perhaps charge a monthly membership fee that gives broad access to NeuroHope's therapists and equipment.
That means, of course, he'll need to raise money or get in-kind donations to offset the true cost of the therapy. But that's what he's determined to do.
"Just because something isn't covered by insurance isn't an excuse for just not making it available," he said.
Earlier this year, Leeuw testified before the Indiana General Assembly, urging lawmakers to pass legislation that would allow long-term-therapy facilities—such as NeuroHope—to apply for grants from an existing spinal cord and brain injury fund that currently pays for research in those areas.
SB 166 passed the Senate unanimously and is awaiting a hearing in the House of Representatives.
Brad Ellerman certainly hopes Leeuw succeeds. The 34-year-old Vincennes resident's spinal cord was crushed and twisted in a four-wheeler accident in August.
He is now on Medicaid, which pays for some rehab therapy. His parents drive him once a week to Indianapolis to use a special machine at the Indiana University Health hospital system called a Lokomat.
Then Ellerman heads over to NeuroHope for more therapy.
"Hopefully, Chris will help me out so I can keep using the therapy," Ellerman said.•
Please enable JavaScript to view this content.