Nearly 150 acres has been rezoned for an upscale housing development in Fishers with 277 units on Southeastern Parkway between Florida Road and Cyntheanne Road.
The Fishers City Council approved the rezoning request from Fishers-based Boomerang Development LLC and Indianapolis-based Ryland Homes on Monday night. The new neighborhood, which is referred to as Whelchel Springs, will have lots ranging from 7,800 square feet to 12,600 square feet with a mix of two-story and ranch-style houses. Average home prices are expected to be $300,000 to $450,000.
The project also will include 49 houses designed for empty-nesters averaging around $275,000.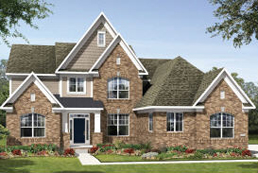 Most homes in Whelchel Springs are expected to cost $300,000 to $450,000. (Image courtesy of Boomerang Development LLC)
The neighborhood will feature nearly 38 acres of open green space, including a playground, and approximately 1.75 miles of trails. There also will be a recreation center with a pool and bathhouse.
Council members and members of the public who spoke at the meeting said they liked the project but had concerns about increased traffic in that mostly rural area.
Resident Dennis Miller presented a slideshow of photos of Florida Road from 113th Street to Southeastern Parkway and said most vehicles travel down the middle of the narrow path because there's no center line dividing two lanes.
Instead of pushing the additional traffic from the subdivision onto Florida Road, residents urged the council to instead extend Cyntheanne Road, which doesn't continue south past Southeastern Parkway.
Fishers Plan Commission member Doug Allman also suggested connecting 126th Street between Southeastern Parkway and Cyntheanne Road. Allman was the only Plan Commission member who voted against the project in February.
An extension of Cyntheanne Road appeared unlikely due to high costs. Mayor Scott Fadness said several road improvement projects in that area have been planned, such as a roundabout at Florida Road and 113th Street, but city staff needed to evaluate what to do with Florida Road specifically.
Boomerang hopes to start construction in the fall, with Ryland selling the homes in 2016. Developer Corby Thompson said the subdivision will take six to eight years to complete, and Fadness said road improvements can be completed in that time frame.
Council President Pete Peterson made preparing a plan for Florida Road a condition of the council's approval of the rezone.
"I think the city needs to be fair to those residents," Peterson said.