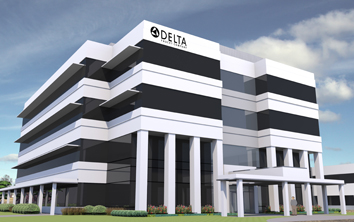 Carmel-based Delta Faucet Co. is planning a $15 million expansion to its headquarters at 111th and Meridian streets.
The kitchen and bathroom faucet manufacturing company recently filed plans with the city detailing the four-story, 80,582 square-foot expansion and discussed the project Wednesday morning with the Carmel Technical Advisory Board.
Architect Michael Conly, with Indianapolis-based Architura Corp., said Delta's showroom and public entrance will move to the addition, along with meeting room and conference center space on the second floor and office space on the third and fourth levels.
The new building also will include a lab, cafe and outdoor garden space. Renderings show a courtyard, outdoor seating and additional parking. Conly said the project also calls for adding walking and running trails to the property.
The structure will connect to the existing 115,000-square-foot headquarters building that Architura also designed for Delta.
Jill Ehnes, vice president of human resources for Delta, said the company is outgrowing its existing footprint, prompting the addition.
"Ultimately, the new facility is being crafted to accommodate our immediate needs as well as provide room for further expansion," Ehnes said in a statement.
There are no new jobs associated with the project, but Ehnes said the company hopes to add more positions in the future. The office space planned for the fourth floor of the new building will not be used immediately.
"This renovation and expansion will help support our ongoing team growth, continue to make Delta Faucet Company a preferred place to work and create a dynamic experience for the customers from around the globe visiting our headquarters each year," Ehnes said in the statement.
Construction is expected to start by the end of the year and be complete before the end of 2016.
Delta has operated in Indiana since 1959 and employs more than 500 people in the state, including at least 360 in Carmel.
Please enable JavaScript to view this content.