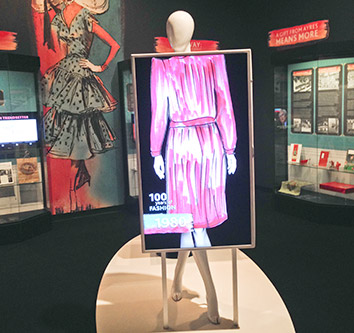 I've got two strikes against me as a visitor to "That Ayres Look," the new exhibit at the Indiana Historical Society (through Aug. 6, 2016).
First, I arrived in Indianapolis years after L.S. Ayres shut its doors. In its place, Circle Centre had just opened. So I had no firsthand experience with the already-by-that-time-legendary department store.
Second, I hate shopping. Absolutely hate it. While I am fascinated with the retail business—the strategies employed in marketing, the logistics of distribution, the artistry of product display, et al.—I shop purely on an as-needed basis.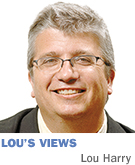 Even with those factors, though, I enjoyed a visit back in time to the heyday of Ayres. And I suspect those with deeper roots in central Indiana—especially those who either worked or made shopping pilgrimages to the former downtown icon—will enjoy it even more.
The exhibition is part of the history center's "You are There" series. In most of these—including the neighboring "You Are There: Picture This," a re-created 1904 photo studio—visitors are taken inside photographs from its collection into interactive, actor-populated scenes that bring the images to life.
While "That Ayres Look" includes a few period characters (not on duty when I visited), it's more of a traditional museum exhibition than others in the series. Here, videos feature former Ayres models and other employees waxing nostalgic about the company's heyday; text panels give concise, interesting background on store history and the Ayres family tree; and artifacts (including an early charge card and pneumatic tube used for transporting payment in its cash-register-free system) rest under glass.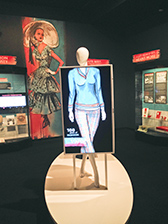 Photo courtesy of Indiana Historical Society
Among the tech attempts, a mannequin fronted by a video screen effectively illustrates changes in fashion over the decades. Less impactful is a pad that visitors hold up to a model of the L.S. Ayres clock in order to see a scene acted out by some workers. It's a cute effort, but it requires holding the pad steady in an awkward position and lacks enough payoff to make it worth the trouble.
Interesting details are packed throughout the small space. Apparently, adult employees used to ride the Santa Claus Express train before the Ayres doors opened for holiday shoppers. "That Ayres Look" was the oldest continuously used advertising slogan. And someone once had the job description "buyer of blankets."
I learned that the Ayr-Way discount stores predated Target and Kmart. And that kids could buy ashtrays as presents for their parents in the Piggy Bank Shop. Oh, and the famed clock at the corner of Washington and Meridian streets was connected to a master clock in the fine jewelry department that controlled all timekeepers in the building.
Speaking of the clock, the real draw at "That Ayres Look" is a pudgy little figure locals are used to looking up to. Yes, the L.S. Ayres cherub that sits atop the clock during the holiday season has been taken out of storage and is on display for the first time away from its usual perch (at least until duty calls later this year).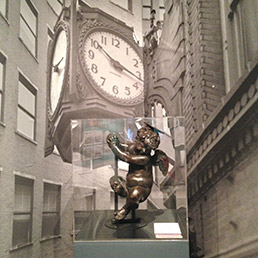 Usually only seen around the holidays on its clock perch, the bronze Cherub gets a place of honor in the exhibition. (Photo courtesy of Indiana Historical Society)
Based on a design from the 1946 Ayres catalog, the 190-lb. David Rubens sculpture was commissioned in 1947 for the company's 75th anniversary. It's neat to see at eye level. I'm just glad nobody at the IHS suggested having an actor dress(?) up as the cherub and interact with guests.
One thing you won't find is much about the go-to lunch spot, the L.S. Ayres Tea Room. That seems like a glaring omission for this stroll down fashionable memory lane, but I suspect that's because the Indiana Historical Society is often confused with the nearby Indiana State Museum. There, a short walk along the canal, you can find a re-creation of the Tea Room and partake of its anchoring menu item, Chicken Velvet Soup.
If you want to learn more, consider "Behind the Indiana Experience," a March 25 lunchtime chat with IHS Museum Theatre Director Dan Shockley and Lead Researcher Angela Giacomelli.•
__________
This column appears weekly. Send information on upcoming arts and entertainment events to lharry@ibj.com.
Please enable JavaScript to view this content.