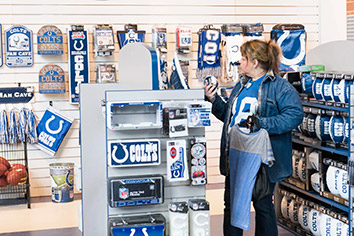 A universal digital inventory system that links customers to goods in more than a thousand Lids Sports Group stores helped the firm wrestle the Indianapolis Colts business away from locally based MainGate Inc., a national player in its own right.
With new technology Lids is rolling out this month, the Indianapolis-based retail chain is aiming to make a big splash for its Lids, Locker Room, Clubhouse and team-run stores. Fans of the Indianapolis Colts—Lids' newest client among a growing roster of teams—will be among those feeling the ripple effects of the move.
Before, customers could access only online goods Lids had in its warehouse, which represented only about one-third of the firm's total inventory.

DeWaal
"Now, a customer can go into any of our stores or on their tablet or mobile phone and access 100 percent of our inventory—in our warehouse or any of our stores, and that includes our team stores," said John DeWaal, Lids vice president of marketing.
Lids is hoping this new technology and its network of 1,144 stores nationwide and in Canada and Puerto Rico will be a significant enticement to lure more team business, which it started building in 2010.
"Lids' reach is certainly one of the things that really appealed to us," said Colts Chief Operating Officer Pete Ward.
Colts fans are already seeing changes. The Circle Centre mall store has closed, but Lids hopes to have a new mall-based Colts store—possibly at Circle Centre—opened soon.
Lids also is planning to remodel the Colts Pro Shop at Lucas Oil Stadium. The remodel will start after the NCAA men's Final Four April 4-6. The store is set to reopen in time for this year's NFL draft, which kicks off April 30. Lids officials are promising a bigger variety of apparel, including more women's and children's items and customized caps.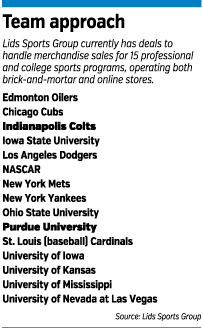 The most dramatic change in the works would allow fans to order items either via their cell phone or tablet or in the stadium store and have it delivered to their seat or a merchandise stand nearest their seat.
With 15 team clients under contract accounting for 57 stores, the team segment is still a relatively small slice of business for Lids, a division of Tennessee-based Genesco Inc.
Lids has scored a number of high-profile clients including Major League Baseball's Chicago Cubs, Los Angeles Dodgers, New York Yankees and St. Louis Cardinals; National Hockey League's Edmonton Oilers; NASCAR; and Ohio State University, Purdue University and the University of Kansas.
"We think the potential of this is pretty big," DeWaal said. "We feel the scale is there and there is no one who can serve the national sports fan like we can."
In fiscal 2014, Lids generated $821 million in revenue, accounting for 31 percent of Genesco's total sales.
The move into managing team stores is part of a strategy to diversify the company beyond its specialty of selling caps, said Bob McGee, editor of Sporting Goods Intelligence, a Pennsylvania-based trade publication.
It's also a strategy that helps retailers like Lids limit the amount of product they can't move and have to sell at a discount.
"The merchandise at team stores is more customized and targeted," McGee said. "So you're not going to be stuck with as much inventory that goes out of style. And their new computerized system will help move that product to wherever the team's fans are nationwide."
Overall, attempts by Lids to diversify the core hat business have gotten off to a slow start. Genesco's sales were mostly flat in 2014.
The company responded by slowing store growth, discounting some merchandise and investing to capitalize on fast online sales growth.•
__________
The Behind the News column will return next week.
Please enable JavaScript to view this content.