Westfield resident Alex Sweet has done dozens of deals on Craigslist, selling various vehicles and car parts, a set of wheels. Most recently, he put his 1996 Jeep Cherokee on the online classified market.
As he sat waiting in the Westfield Police Department parking lot, an officer drove by and stopped to ask Sweet if everything was OK.
Sweet, 27, explained he was conducting a Craigslist transaction, and the officer gave him a thumbs-up, told him to have a good day, and drove away.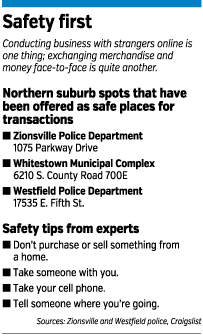 Police stations across the country have started offering space for these business exchanges, saying it's a win-win-win—strangers meet in a safe spot, police help prevent crime, and the danger of doing business on Craigslist decreases.
The trend has caught on in Indiana cities as disparate as Spencer and East Chicago.
And closer to home, police departments in Westfield, Whitestown and Zionsville are offering video-monitored space for transactions. Other departments—including Carmel, Plainfield, Mooresville and the Hamilton County Sheriff's Office—allow Craigslist deals in their public areas but haven't advertised it. The Indianapolis Metropolitan Police Department encourages Craigslist users to contact police with concerns, but also hasn't publicly offered a spot for transactions.
Sweet met the potential Jeep buyer about 45 minutes after he responded to the Craigslist ad. The next night, the two met again in the police department parking lot and exchanged $3,500 and the title for the vehicle.
"It's just one of those places where you feel safe to be there," Sweet said. "I thought it was a good idea and it worked out."
A bonus for Craigslist
Richard Feinberg, consumer sciences and retail professor at Purdue University, doesn't see any negative consequences to opening police station lobbies to conduct Craigslist transactions.
"It's certainly not going to hurt Craigslist sales," Feinberg said.
Actually, the police departments or other public entities that offer the space are helping Craigslist, which had annual revenue of $355 million in 2014, according to Advanced Interactive Media Group LLC.Craigslist ads are free for users, other than job listings in certain areas and a few categories of items for sale. The company earns money through advertisements on the website.
"Taxpayers are now subsidizing something Craigslist was going to have to do anyway," Feinberg said, referencing the need for safe places for users to conduct business.
The online classified service has been linked to dangerous perceptions, in part due to high-profile crimes like the murder of an Atlanta couple hoping to buy a 1966 Ford Mustang or the Iraq War veteran killed in Indianapolis while attempting to purchase an iPad from a Craigslist user.
The fear of conducting business through the website isn't widespread enough yet, but Feinberg believes it will continue to grow and Craigslist will be pushed to find ways to protect buyers and sellers.
"Increasingly, consumers are fearful about this transaction," Feinberg said.
Safety first
The first person who responded to Sweet's ad for his Jeep Cherokee hesitated about meeting at the Westfield police parking lot. That raised a red flag for Sweet.
The man offered to meet across the street, but Sweet declined.
"If they have a problem being there, you shouldn't meet with them," he said. "They obviously just don't want to be around police."
Westfield police Capt. Charles Hollowell said the department started allowing the transactions as an effort to prevent Craigslist users from fraud or physical harm.
"I think you're probably going to think twice about doing that at a police department," Hollowell said. "If everything is legit … then the reality of it is, you're not going to have a problem going to the police department to do it."
Westfield police haven't had many cases of Craigslist deals gone wrong, but Hollowell suspects that might be underreported.
"You do get one here or there," Hollowell said.
Whitestown Town Manager Dax Norton said the murders in Atlanta and Indianapolis motivated town officials to offer the safe area.
"It's really about safety first and economics second," Norton said.
Whitestown opened the parking lot and town hall lobby—both under video surveillance —for business in February. On a recent Friday afternoon, Norton said, he watched several transactions, including a bike and possibly a vehicle.
In Zionsville, officials allow the public to use the police department lobby for Craigslist deals, but it's not being tracked.
"Honestly, I don't know if it's been utilized yet," Police Chief Robert Knox said. "I'm just jumping on the bandwagon because it's the right thing to do."
While the police department parking lots and lobbies do appear to provide more safety, it also might just shift where the crime takes place.
"They don't guarantee that police will be there when you do the transaction," Feinberg said. "There's no guarantee that it will be safer."•
Please enable JavaScript to view this content.