There's nothing posh about Poseidon Experience, an indoor shooting range that opened in January just off Interstate 69's 96th Street exit.
The floor of the 6,000-square-foot facility is bare concrete, and many furnishings came from auctions and liquidation sales. Owner Jesse Barnett made some things from scratch, including the curtain system that surrounds the main training area.
But ambiance isn't what his customers are after. They want a safe, inexpensive training experience, and Barnett, a former Navy SEAL, offers one that's hard to come by. He uses a non-lethal firearm simulation technology that for years has been exclusive to military or law enforcement agencies. He's among the first in the country to commercialize it for public use.
"I could give two [expletive] about ambiance," said Greg Papagiannis, 56, of Fishers, a gun owner for 35 years and a member of Poseidon Experience.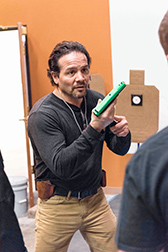 Owner Jesse Barnett started the company in January. (IBJ photo/Eric Learned)
"I look at it from a value standpoint—quality of instruction, cost and convenience."

The firearms training system Barnett uses was produced by Milo Range, a division of Michigan-based FAAC Inc. The guns are real, but don't use bullets. There are no paper or metal targets, just a projector screen.

The system's magazines are filled with compressed air instead of bullets; a laser transmitter sits in the barrel. Shooting activates the laser and releases some air, causing the gun to recoil. Sensors track where the laser hits the screen, recording the shooter's accuracy.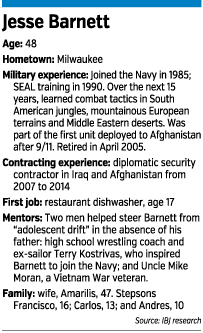 Barnett, a 20-year Navy veteran, said cost savings and safety are among his top selling points. If his training weapons are used properly, the chances of getting shot are nonexistent, and people can fire about 400 shots per session without ammunition fees. Those fees vary at "live fire" shooting ranges, but some facilities charge about 30 cents per bullet.

"It enables me to train people at a much higher level because there is no danger and there's no cost of bullets," said Barnett, who, through the Navy, spent years as a firearms user and instructor.

Market widening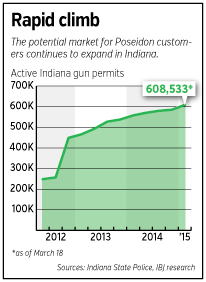 Barnett's startup takes flight at a time Hoosier gun ownership is on the rise. There were more than 608,000 active Indiana gun permits as of March 18, according to the Indiana State Police, up from 249,000 at the end of June 2012.

Milo Range, the technology producer, for decades has targeted government agencies almost exclusively. Only recently has the company warmed up to the idea of selling to the private sector, General Manager Robert McCue said. Of the 250 systems the company expects to sell this year, he said, about 10 percent will go to entrepreneurs.

"We're very picky about who we provide these to," he said.

But interest by military and police veterans in making the technology available to civilian gun owners is reshaping the company's strategy. Milo Range plans to deploy resources for commercial sales this year, and it's starting with veterans.
"It's really demand and what we see as a real sophistication by some of the people coming to us," McCue said.

Barnett, 48, joined the Navy in 1985 and became a SEAL in the early 1990s. He's practiced warfare tactics all over the world, he said, from the jungles of South America to the deserts of the Middle East.

He grew up in inner-city Milwaukee in a neighborhood that was middle-class before suburban flight in the 1950s and 1960s. Deterioration and violence settled in over time.

Barnett hardly saw his dad past age 5, he said. His uncle and a high school wrestling coach helped guide him and influenced him to join the Navy.

He became an independent security contractor after retiring in 2005 and, in 2014, settled in Indianapolis with his now-wife Amarilis. He had a few entrepreneurial ideas, but honed in on firearms training because of his background. He used Launch Fishers, a co-working space, before signing the lease on a suite at 9402 Uptown Drive last fall.

Early challenges

Barnett said he hasn't seen anyone else commercializing the simulation technology in the region, and his business is gaining some traction.

Poseidon has seen about 250 patrons since opening Jan. 31, about 35 people a week. Some parties have been as large as 25. He has about 20 members, some paying $60 a month.

Poseidon has drawn marksmen and even novices like Mark DiSalvo, a 61-year-old who said his experience allayed some of his gun fears. "I'm not as concerned about using them. I'm much more comfortable."

But it hasn't been all smooth sailing. After acquiring the space, Barnett painted the interior but discovered the carpet was bound by glue. So he had to rent machines to grind the glue and ultimately had to repaint.

"It ended up adding about $20,000 and about six weeks to my anticipated finish time," he said.

All told, Barnett put about $240,000 into a fund for business--$90,000 of his own money and $150,000 from a bank loan. He's got about $5,000 left, he said.

For February, his first full month in business, the business had about $4,000 in income and $8,000 in expenses. He expects to turn a profit in April.

Competition

While Poseidon doesn't appear to have any direct competitors nearby, it still contends with other ranges for consumers' gun-training dollars.

Barnett said that, unlike live-fire sites, his operation doesn't involve loud discharges and hazardous materials, like lead. Shooting sessions start at $50, compared to $100-plus, including ammo, at some locations.

But some people in the industry, including Manager Guy Relford at Eagle Creek Pistol Range, note that live-fire ranges still hold some advantages.

"There's nothing like training with the recoil of your particular firearm, the noise of your particular firearm—the whole experience of firing the gun that you own," he said.

Barnett said the non-lethal to live-fire training ratio for gun owners should be about 3:1, respectively.

The mainstream potential remains to be seen, but Barnett said he's confident the ground is going to swell. The barriers to entry are fairly high, as the technology itself can cost in the six-figure range. But that cost might lower over time.

"I think it'll go from 10 percent of our business right now to, in two to three years, 20 to 25 percent," Milo's McCue said of commercial sales. "We believe that, if the population is going to have firearms, a well-trained population is good for the country."•