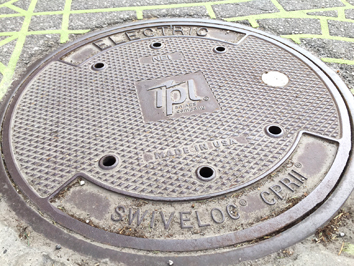 Regulators are taking "extraordinary" steps to investigate the failure of Indianapolis Power & Light's underground network, Indiana Utility Regulatory Commission Chairwoman Carol Stephan said at a special meeting Friday morning.
The IURC opened its formal investigation of IPL's underground explosions during a very brief proceeding Friday morning, just one day after the latest incident, which sent multiple manhole covers flying and left hundreds without power.
Although the IURC regularly launches formal investigations, it is very unusual for the commission to act so quickly, spokeswoman Chetrice Mosley said. The fact that the NCAA Final Four Tournament, April 4 through 6, is just two weeks away was not the driving force behind the IURC's action, she said.
"People were out of power. There were safety concerns."
The IURC has investigated IPL's past underground explosions, but those investigations, conducted in 2011 and 2014, were informal and limited to specific incidents, Mosley said.
The formal investigation will be a comprehensive look at IPL's underground network and how it's maintained. The proceedings will begin with a technical conference on April 2 and could last many months. There will be opportunities for the Office of Utility Consumer Counselor and other parties to intervene, and for ratepayers and citizens to comment.
IPL CEO Kelly Huntington, who attended the proceeding, said the company will be "comprehensive and transparent" in responding to the commission's investigation.
Please enable JavaScript to view this content.