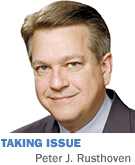 Sen. Dan Coats' decision not to seek re-election sparked immediate speculation about a raft of potential candidates for what was a "safe" Republican seat, and whether that seat is now in play in 2016. A flurry of articles and emails on this were circulating within hours of Coats' announcement.
We're going to hear more than enough about would-be Coats successors. Let's spend a moment focusing on the man they hope to succeed.
Politics is filled with people whose ambition is palpable and egos are boundless. Not Dan Coats. He has never rushed to get in front of the cameras. From the day he took office, as a new congressman at the dawn of the Reagan administration, Coats has approached public service with a servant's mentality.
Unlike many who spend a lifetime climbing the greasy pole, Coats became a senator by happenstance. When Dan Quayle was elected vice president, then-Gov. Bob Orr appointed Coats to fill the resulting Senate vacancy. It was a popular choice precisely because Coats' years in the House were marked by dedicated commitment to conservative principles, rather than posturing or positioning himself for advancement.
The same was true of his Senate service. After winning the 1990 special election and a full six-year term in 1992, Coats did something unusual in 1998—honoring an earlier promise not to seek another term. Whatever one thinks of term limits, those who make such pledges should keep them. Many don't. Coats did.
Three years later, Coats was called back to public service as ambassador to Germany. The 9/11 attacks came three days after he arrived in Berlin. He was an effective advocate for U.S interests, helping manage tensions arising from the war in Iraq. He also played a key role in establishing strong relations with Germany's then-opposition leader Angela Merkel, who has been chancellor since 2005.
After returning, Coats had no longing for public office, but in 2010 yielded to entreaties (mine among them) that he run for his former Senate seat. Coats made that decision when Sen. Evan Bayh was fully expected to be a formidable candidate for re-election, which, to much surprise, he decided not to seek.
As during his earlier Senate service, Coats remains a principled conservative. And he remains among the diminishing number respected on both sides of the aisle.
We are a deeply divided nation. The divisions are substantive, involving core differences about government's role in a free society, and America's role in a world where freedom is scarce and civilization itself is under threat.
These debates merit our attention, indeed, our passion. It is childish to pretend our differences are a mere product of partisanship, which should yield to some childlike admonition (a la Rodney King) asking, "Can't we all get along?"
But passion does not require malice. Coats was and is passionate in advocating freedom and opportunity at home, and forceful American leadership abroad. But his advocacy has been more effective than that of those on both sides whose voices are loud and angry. As one who shares Coats' views on the critical issues of our era, I am all the more grateful for his thoughtful, responsible approach.
Reacting to Coats' decision, Senate Majority Leader Mitch McConnell remarked "what this kind and humble Hoosier has been able to achieve." Both adjectives apply to Dan Coats, and not many others. We will miss him.•
__________
Rusthoven, an Indianapolis attorney and graduate of Harvard College and Harvard Law School, was associate counsel to President Reagan. Send comments on this column to ibjedit@ibj.com.
Please enable JavaScript to view this content.