Give Paul and Emily Ehrgott credit for seeing the well-hidden potential in their current home, a 2,400-square-foot Italianate farmhouse built in the 1880s and situated on the very farthest fringe of the north side. Because absolutely no one else did.

Quite the opposite, in fact. Shortly before the couple purchased the place in 2013, a photographer took a picture of its dilapidated, forbidding exterior, entered it in a photo contest and won—in the category for the image that best portrayed the emotion of fear.

Today, his photo hangs in the home's brightly lit, refurbished parlor. After a year of renovation, the two-story home is anything but frightening. Besides the parlor, the first floor includes an airy living room, a three-room master suite and a kitchen—all done in a shabby chic style favored by Emily, who describes herself as an inveterate auction hunter.

Indeed, her passion for old things is what led her to the house. She and her husband, a project manager for Wilhelm Construction, were looking for a home convenient to his work but still offering a suburban setting for their three grade-school-age kids.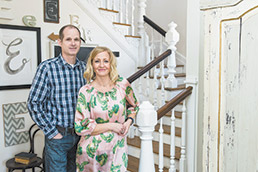 Homeowners Paul and Emily Ehrgott. (IBJ Photos/ Eric Learned)
"We wanted good schools, but when you get out in the suburbs you have a lot of brand new houses with no character," Emily said.

The house was certainly full of character. However, it was also full of expensive problems and raccoons. The couple found the place listed on an auction site, did a walk-through, and somehow saw its potential.

It was a remarkable feat of positive thinking, considering that the place had stood empty for half a decade, animals lived in the kitchen cabinets, and teenagers had kicked in a window and used the place as a hangout.

The Ehrgotts initially were outbid by Indiana Landmarks, which bought the place to preserve it. When the couple noticed a few months later that no work had been done on the property, they asked about buying it. After a bit of haggling, they got it for $125,000. Thus began a year-long renovation kicking off in August 2013.

One of the first big jobs was removing three dumpsters' worth of decrepit plaster. Next, they replaced pretty much every physical system, from electricity to the insulation, which was so old it had settled into soggy piles inside the walls.

Paul figures the work would have been prohibitively expensive were it not for his building expertise and help from friends and family.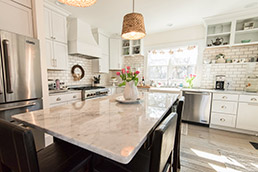 The kitchen was converted from two small rooms, and still has two types of hardwood flooring.
"We called in a lot of favors," he said.

They're happy with the result, to say the least. The kitchen, formerly a dingy two-room mess, was remade as a single space with Carrera marble counters, stainless steel appliances and an ample island/eating area.
Guests can see where the old dividing wall was located by looking at the floor, half of which is covered in 1930s-vintage oak. The rest, which was formerly a separate room, sports five-inch boards after layers of linoleum were removed.

The couple carved their modest first-floor master suite out of space next to the kitchen, creating a small sleeping area, closet and bathroom. The kids reside upstairs, with the daughter getting her own bedroom and the boys doubling up in a sleeping space that was formerly a large closet and a portion of the attic.

Emily's love of antiques served her well when it came time to find period architectural touches.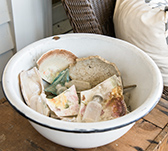 A bowl by the front door is where the Ehrgott children drop off artifacts they find in the yard—everything from vintage medicine bottles to broken pieces of china.
"When I realized we needed things, I started calling people at auctions," she said. "They have barns full of stuff. Paul said we needed some doors, and I think I brought home 27 of them."

She also located a massive newel post for the master staircase at a salvage store. It's slightly damaged and not exactly like the others, but the price—less than $100—was right.
Today, the abode is largely done, save for landscaping and attending to a free-standing brick smokehouse/summer kitchen that the couple might turn into an office/craft area.

The Ehrgotts enjoy living in a house with so much history. They even keep a bowl by the front door where the kids can drop off artifacts they find in the yard—everything from vintage medicine bottles to broken pieces of china.•