Consumers aren't the only ones checking out at grocery stores. Banks are, too.

The number of in-store bank branches—mostly at grocery stores—has been trending downward for years, and in the coming months they'll be all but gone from Indianapolis.

In-store branches helped Evansville-based Old National Bank quickly build brand awareness when it entered the local market in 2009, but it's cutting the last of its grocery locations in May. Huntington Bank has cut in-store branches as well in recent years and is down to one in Indiana. After April 30, Chase Bank will not have any in the area.

In-store branches aren't extinct, but their presence continues to fade across the country. They were once seen as an inexpensive way to capitalize on foot traffic grocers and other retailers enjoy.

Technology played a role in the decline, observers said, but the biggest factor is that "mini-branches" just aren't big money makers. As banks squeeze operations for efficiencies, branches with weak loan and deposit metrics—often in-store locations—are the first to go.

"How do I talk to somebody whose ice cream is melting about possibly needing a car loan?" said Mark Schwanhausser, an analyst with California-based Javelin Strategy & Research.

Erosion continues

There were 5,438 in-store branches in the United States as of March 2014, according to North Carolina-based SNL Financial. The number is down about 12 percent from 2009.

These branches are typically several hundred square feet versus at least 2,000 square feet at typical stand-alone branches. They can be up to 80 percent cheaper to open than their larger counterparts, and some offer extended hours.

They gained popularity in the mid-1980s, growing rapidly through the 1990s. But their environments haven't been conducive to cross-selling financial products that make the bank money, and they largely became transaction centers.

In-store branch numbers have eroded further as transactions like moving money or depositing a check can now be done via smartphone. Beyond that, industry headwinds like low interest rates have increased pressure to cut costs.
Reichmann
"With new legislations and regulations that are eliminating income to the bank and creating new expenses for the bank," said Old National Bank's Central Indiana President Randy Reichmann, "the bottom line is you have to find ways to replace that revenue or cut expenses."

Old National Bank had 59 in-store branches when it acquired CharterOne Bank in 2009, many in Indianapolis supermarkets such as Kroger and Marsh.

While much of the ensuing closures had to deal with eliminating geographic redundancy, another factor has been profitability.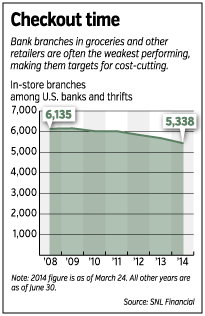 Reichmann said strong-performing in-store locations could have avoided being cut. But, for the most part, growth in that segment has been flat.

Huntington Bank closed its West 38th Street location, inside a Marsh, in 2013. Its sole remaining grocery branch in Indiana is in a Kentucky Avenue Marsh. Officials didn't respond to questions about its fate.

A spokeswoman with Chase Bank said the company is closing two in-store locations, but she couldn't be reached for further details. The Chase website mentioned its Crawfordsville Road Kroger location was closing, and a Chase employee said that branch was the bank's last grocery store branch in this market.

Other banks find value

The trend isn't pleasing to grocers, particularly those that sublet space to banks.

Courtney Galyan of Indianapolis-based Alo Property Group said affected grocery stores will have to find replacement tenants or fill the void with an in-house revenue generator.

Some grocers liked to host bank branches because it bolstered their offerings as a one-stop shop. But Galyan doubts grocers will try other one-stop, Walmart plays like optometry or salons.

"I think they'll stick to their bread and butter," Galyan said, adding they'll likely fill the void with pharmacies if they don't already have them.

Some banks, including Fifth Third Bank, don't plan to trim their already slim grocery presence. Kevin Sullivan, senior vice president of distribution strategy for the bank, said Fifth Third has two Indiana in-store locations that perform better than its average branches.

"They're a little more rural than our average branch, and they've become very much a destination for our customers," Sullivan said about the Greenfield and Brownsburg locations, both at least seven miles from the nearest free-standing branch.

Muncie-based First Merchants has three grocery locations across the state, including one in a Pay-Less in Lafayette. Michael Hurst, central region president for the bank, said the company uses them in certain locations to add flexibility, including longer hours.

"I would expect us to continue to use them," Hurst said, "but we don't have a big growth strategy around them."•