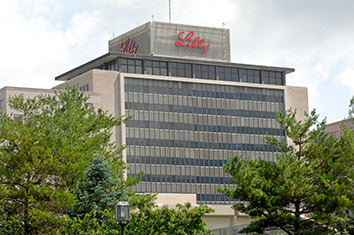 Indiana-based companies including Eli Lilly and Co. and Anthem Inc. pressed state leaders to enact legislation clarifying that the state's new religious-freedom law can't be used to discriminate based on sexual orientation or gender identity.
"All our companies seek to promote fair, diverse and inclusive workplaces," the companies' chief executives wrote in a letter Monday to Gov. Mike Pence, Senate President Pro Tempore David Long and House Speaker Brian Bosma. "Our employees must not feel unwelcome in the place where they work and live."
Pence, who is among potential 2016 Republican presidential candidates, last week signed the Religious Freedom Restoration Act, which says the state can't "substantially burden a person's exercise of religious freedom." Opponents say the measure would allow businesses to discriminate against gays and lesbians because Indiana doesn't recognize them as a protected class.
The law provoked criticism from technology leaders, including Apple Inc. CEO Tim Cook, who is openly gay, and Salesforce.com Inc. CEO Marc Benioff. On Monday, alternative rock band Wilco canceled its May 7 show at the Murat Theatre in Indianapolis. "Hope to get back to the Hoosier State someday soon, when this odious measure is repealed," the band said in a Facebook post.
Scott McCorkle, CEO of Salesforce's Marketing Cloud division, employing about 2,000 people in Indiana, and William Oesterle, CEO of consumer-review website Angie's List Inc., which on Saturday withdrew a proposal to expand its Indianapolis headquarters, were among those who signed Monday's letter.
'Immediate action'
"As leaders in the Indiana business community, we call on you to take immediate action to ensure that the Religious Freedom Restoration Act will not sanction or encourage discrimination against any residents or visitors to our state by anyone," the CEOs wrote in the letter.
The new law won't allow citizens and businesses to discriminate, Bosma, a Republican, said in a news conference at the Indianapolis statehouse Monday. He said the legislature would clarify the measure by adding language that says no one can be denied services.
During an interview Sunday on ABC's "This Week with George Stephanopoulos," Pence didn't directly answer whether the law permits discrimination, such as by allowing a business to refuse to serve a gay wedding.
"It raised the specter that this was the intent or the effect, and that's one of the reasons that we're here today, to resolve that," Bosma said.
Pence is set to further address the controversy at an 11 a.m. news conference. Republican legislative leaders said they are working on adding language to the law to make it clear that the measure does not allow discrimination against gays and lesbians.
'It's wrong'
Chicago Mayor Rahm Emanuel, a Democrat running for re- election, sent letters to more than a dozen Indiana businesses, encouraging them to move to the nation's third-most-populous city, its neighbor to the northwest.
"Governor Pence's act is wrong," Emanuel wrote in a March 27 letter. "It's wrong for the people of Indiana, wrong for the individuals who will face new discrimination, and wrong for a state seeking to grow its economy."
Businesses in the state have previously spoken out against a proposed constitutional amendment that would have banned gay marriage. Two local chambers of commerce and employers led by Cummins Inc., the world's largest maker of big diesel engines, and Eli Lilly, the biggest U.S. maker of insulin products, last year gave $100,000 each to a campaign against the measure.
Pence, 55, is a former six-term congressman and conservative talk show host who ran for governor in 2013, calling himself "a Christian, a conservative and a Republican, in that order." He said over the weekend that he would support clarifying language.
'Should be illegal'
The criticism has thrust Pence on the defensive, facing an alliance of businesses and legislative Democrats.
"Governor Mike Pence won't say it, but we will: discrimination is wrong and should be illegal in our state," Senate Democratic Leader Tim Lanane, of Anderson, said in an e-mailed statement. "Businesses are heading for the exits and everyday Hoosiers are fearful their neighbors will be subject to state-sanctioned discrimination."
Pence's signing provoked a series of cancellations.
The 1.6 million-member American Federation of State, County and Municipal Employees announced it will move its 2015 Women's Conference in October out of Indianapolis because of the law the union calls "an embarrassment."
Connecticut Democratic Governor Dannel Malloy signed an executive order banning state-funded travel to Indiana. San Francisco Mayor Ed Lee and Seattle Mayor Ed Murray also banned city-funded travel to the state.
"I found it disturbing, disgraceful and outright discriminatory," Malloy said during a news conference Monday.
Benioff said Salesforce would reduce employee travel to Indianapolis and cancel marketing events that require customers to travel there.
Please enable JavaScript to view this content.