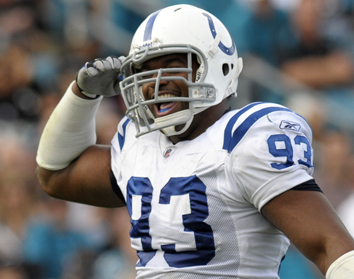 Bank of America Corp. faces a lawsuit by former Indianapolis Colts star defensive end Dwight Freeney, who claims the bank set him up with an unqualified private banker and her "notorious financial predator" boyfriend.
Freeney, a seven-time Pro Bowl selection who played with the San Diego Chargers last season, said in a complaint in state court in Los Angeles that the bank was complicit in a fraud scheme that caused him to lose more than $20 million and forced his Rolling Stone restaurant to close.
"In the course of the scheme, Mr. Freeney was lied to, misled and had more than $8.5 million misappropriated from his BOA accounts by the very bankers and advisers who were responsible for managing his assets, investments and income," according to the complaint filed Feb. 23.
Freeney alleges that in 2010 he engaged Bank of America's Global Wealth & Investment Management Division to oversee his money. Michael Bock, the head of Freeney's advisory team at the bank, arranged for Eva Weinberg, a former bank employee who was also the banker's ex-wife, to be Freeney's principal liaison with the bank, according to the complaint.
Bank of America also referred Freeney to Weinberg's "paramour" Michael Stern, who was using a fake name, for financial advice, knowing that he already had a lengthy track record of real estate fraud, bribing public officials, forgery and theft, according to the complaint.
Stern and Weinberg were charged in 2012 by federal prosecutors in Los Angeles and have pleaded guilty. Stern was sentenced to five years in prison, while Weinberg got six months.
'Primary wrongdoer'
"Although we sympathize with Mr. Freeney as the victim of a crime, the bank had nothing to do with the criminal scheme," Bill Halldin, a spokesman for Charlotte, North Carolina-based Bank of America, said in a written statement. "The primary wrongdoer never worked for the bank or any of its affiliates and the other person committed her criminal conduct after she left Merrill Lynch in 2010."
Freeney, a 13-year NFL veteran out of Syracuse University, played his first 11 seasons with the Colts and last two with San Diego. He was named a first-team NFL All-Pro in 2004, 2005 and 2009, and his 111.5 sacks are the 20th most since the NFL began tracking them in 1982.
He is the Colts' all-time leading sack leader, with 107.5.
In July 2007, Freeney became the highest-paid defensive player in NFL history, signing a $72 million contract extension that included a $30 million signing bonus, according to ESPN.
Now 35 and a free agent, Freeney said this month that he'll continue his NFL career, according to the San Diego Union- Tribune. The Chargers said March 12 that he won't be re-signed.
Freeney played just four games for San Diego in 2013 before tearing his quadriceps muscle, ending his season. He played all 16 games in 2014, recording 3.5 sacks.
Please enable JavaScript to view this content.