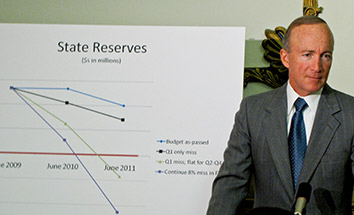 Purdue University President Mitch Daniels, who called for a truce on social issues while Indiana's governor, said people are "heartsick" over the controversy that has erupted over a new state law that some feel could allow discrimination against gays and lesbians.
The former governor has kept a low profile as calls for boycotts of Indiana have grown. But he told the Journal & Courier that the outcry over it has hurt a years-long effort to establish Indiana as a business-friendly state.
"A lot of people are heartsick about this," Daniels said. "For those of us who feel like we spent years building up a great business climate and reputation for the state, you hate to see anything damage it in the way, at least for the moment, it has."
The measure, signed by Gov. Mike Pence last week, prohibits laws that "substantially burden" a person's ability to follow his or her religious beliefs. The definition of "person" includes religious institutions, businesses and associations.
Pence and Republican lawmakers say it wasn't meant to allow discrimination and is based on a 1993 federal law signed by then-President Bill Clinton. But critics say the Indiana language is much broader than that in the federal law. They fear it could open the door to discrimination against gays and lesbians because Indiana doesn't include sexual orientation and gender identity in its civil rights protections.
At least one organization, the AFSCME public employees' union, has canceled its convention over the law, and many companies and governments have spoken against it.
Pence has asked lawmakers for language that clarifies the law's intent by Friday.
Daniels noted that not everyone bought into his call for a truce on social issues, "including some of the people who tended to be critical and are still active in the same social issues today."
But he stood by the notion.
"I still say that truce was a good idea, in many ways," Daniels said.
Please enable JavaScript to view this content.