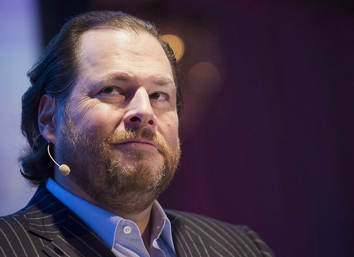 Salesforce.com Inc. CEO Marc Benioff has been one of the loudest critics in the country of Indiana's Religious Freedom Restoration Act, and also one of the first.
Starting March 25, he fired off dozens of tweets about news on the topic and repeatedly highlighted other national companies that have followed his lead. Salesforce employs 2,000 to 3,000 people in the state after its $2.5 billion acquisition of Exact Target in 2013. Benioff spoke at length to IBJ about the controversial law on Tuesday. Following is an edited version of his remarks.
What did Indiana mean to Salesforce before this law passed? What were your plans here?
We acquired ExactTarget about two years ago for about $2.5 billion. It was the largest technology employer in Indiana, and we've been investing aggressively and increasing head count. We're also planning to build a Salesforce Tower in Indianapolis as well. We were planning to make Indianapolis a major hub of Salesforce.
So Indianapolis is very strategic to Salesforce. We've had a great experience in Indiana. I also have a great relationship with Mayor [Greg] Ballard and Gov. [Mike] Pence, but this problem got in the middle of our relationship and I hope to resolve this and get back to work.
So what impact does this law have on your plans here?
We're currently re-evaluating what our position will be and we honestly just don't know. This has been a very volatile week and we're not sure. We think there's substantial progress being made with the legislature and the governor—mostly led by Mayor Ballard. And what I hope is that this will all be resolved and we'll be back to normalcy once again.
We're doing this because we want to get back to where we were. We want to have a work environment that is discrimination-free. We want a place where we can bring our customers and employees where they will not be discriminated against.
You mentioned last week that you were canceling all programs that require travel by customers and employees to Indiana. With marketing conference Connections already gone, what programs are we talking about?
We have a constant stream of programs and events happening in Indianapolis. We have a variety of customer meetings, customer programs.
How many types of events are we talking about?
I don't have a specific number.
So, there are other events that require travel here and for now, they're cancelled?
Absolutely. We're moving them to other cities. They're everything from new product introductions, customer-training programs to marketing programs.
You told one news outlet about a slow roll out of economic sanctions for Indiana. What else is on the table if this law isn't changed?
What we've been considering is providing relocation packages to our employees to move them out of the state if they feel this is a state that no longer wants them. And I actually approved the first employee relocation [on Tuesday].
This is someone who worked in Indianapolis that's moving where?
That's undetermined right now. They can move anywhere they want all over the world.
What does that package include?
It's a complete relocation package for any employee who feels disenfranchised by the new law.
That employee sent me an email saying "I want to move out of the state." That employee happens to be gay. I said "You have my full support." We have not turned that into a formal program, but I'm considering that. It's generally $50,000 to $100,000 of relocation expense coverage.
What are your thoughts about the national corporate response to the law?
You see that this is not just about Salesforce. You recently saw Nike and Marriott make aggressive statements. You saw Angie's List, of course. You saw the impact on technology conferences. With the Indy Big Data conference, companies like Oracle and Cloudera and others all said, "We're not going."
So others are following our lead. Everyone is paying attention to this, and everyone is listening. And these CEOs are the true leaders of our country. They're the economic engines. They're making changes based on this law, and it's in the interest in the state of Indiana to quell these CEOs of anxiety.
I think everyone has learned a big lesson here, which is that companies matter, CEOs matter, and in the world of social media, things can happen quickly. I don't think people realized how much could happen in a week.
And you know what? This isn't about politics; it's about economics. We just want to have a good business environment for our customers and employees. This also is a message to our politicians to get back to work. Build a country that's functional and stop playing games.
There's been some criticism about your consistency on the issue, saying that you're not sanctioning countries that you operate in with blatantly discriminatory laws, including China.
I'm not Chinese. I'm American. And I'm not the largest technology employer in China. This is about Indiana, not China. And we're talking about the stakes we hold in Indiana and what we want to have happen here. This is not about any other state in the union. This is about Indiana and making Indiana discrimination-free.
Walk me through what led you to go vocal about the issue?
Salesforce has signed off on letters to the governor saying please do not pass this legislation because it's discriminatory. And he did. And I was reading the news on my phone and I saw that he passed the law, and I just went on Twitter and I said we can't send out customers and employees to the state of Indiana if this is the situation.
It was actually impulsive. This was not any kind of coordinated campaign. It was not well thought out, and none of this has been architected by my company. It was just me on my Twitter and Facebook feeds.
When did you talk with Gov. Pence?
I think I talked to him Friday or Saturday [after the law passed]. He said, "you don't understand that law, you don't understand my rationale." You heard his argument.
And I said, "Governor, you don't understand that the point is that this is how people are perceiving the law, which is that they're going to be discriminated against. You made no protections against discrimination. If you're gay, there are going to be signs in restaurants that say 'no gays' —and that is not acceptable."
What do you say to your employees based here who are wondering what your economic sanctions mean to them? Is it fair for them to suffer and feel at risk?
I would say we're all suffering right now. And we all want to get back to work, including me.
If this law is fixed, from your standpoint, will you be as vocal about supporting Indiana as you have been in criticizing it?
Absolutely. 
Please enable JavaScript to view this content.