Just Marketing International founder Zak Brown is taking the helm of one of the world's largest sports and entertainment marketing companies, with 22 offices in 15 countries.
London-based CSM Sports & Entertainment, which acquired Zionsville-based JMI in 2013, wants to compete in North America with sports marketing powerhouses like IMG and Octagon. As the new CEO, Brown's goal is to double CSM's annual revenue to near $700 million within five years.
Brown, 43, moved from his native California in 1994 to be closer to the Indianapolis Motor Speedway and started JMI a year later. After he retired as a full-time driver, he turned his motorsports marketing company into one of the fastest-growing firms in the city.
JMI in 2012 reported revenue of $40.8 million and EBITDA (earnings before interest, taxes, depreciation and amortization) of $7.7 million.
CSM in 2013 paid $76 million for JMI and made Brown the parent company's chief business development officer while keeping him on as JMI's CEO. With his latest promotion, he vacates the CEO post at Just Marketing.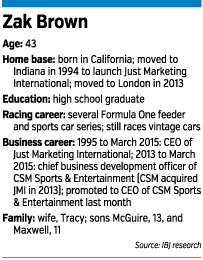 "JMI has grown up and gone to college. I don't need to be replaced," Brown said.
Though Brown said he can no longer divulge JMI's revenue, he said the Zionsville firm had record sales last year.
Brown will keep an office in London, where he has been since 2013, but added that, "I'll be making a lot more trips to the U.S.," including several each year for IndyCar and NASCAR races.
But Brown said his role leading CSM—which has 12 divisions focusing on everything from event management and sponsor representation to athlete management and broadcast services—will spread far beyond his motorsports roots. CSM has 850 employees, and is among the best-known sports and marketing firms in Europe and Asia.
But it has a minimal presence in North America. CSM parent Chime Communications Plc reported revenue of $578.8 million in 2014, with about 60 percent of that coming from the sports side—much of it in soccer, rugby and now motorsports—and 40 percent from its division involved in traditional advertising.
Brown's initial focus will be growing revenue in soccer, golf and tennis, but eventually he plans to go head-to-head with North American sports agencies in the lucrative NFL, NBA, Major League Baseball and National Hockey League markets as well.
CSM Executive Chairman Sebastian Coe, a gold medalist in the 1,500-meter run in the 1980 and 1984 Olympics, said he isn't concerned about Brown's relative lack of experience outside motorsports.
"Zak has been building businesses around sport for 20 years, including his own successful business," Coe said. "His energy, passion for sport and formidable focus make him the right choice to lead the business."
Brown said he'll use many of the same tactics he used to grow JMI to bolster CSM. His first priorities at CSM are to create global offerings for clients and create internal scaling and back-office efficiencies to drive higher profits.

Brown
"What I need to do is provide leadership, direction, focus and motivation," Brown said. "I think what I've learned and applied at JMI can be applied to any business."
Brown grew JMI from an agency with one client—Trans World Airline—to one that represents the biggest sponsors in NASCAR, Formula One and the IndyCar Series. Some of JMI's clients include Subway, Dewalt Tools, Verizon, Mazda, Budweiser and UPS.
Working on behalf of Crown Royal and Johnnie Walker, Brown led the charge in 2004 to lift the ban on hard-liquor sponsors in NASCAR and recently signed deals to represent NASCAR star Jeff Gordon, drag racing legend John Force, and auto racing pioneer and champion Jackie Stewart.
In 2014, JMI helped craft a deal making Verizon the title sponsor of the IndyCar Series.
Making a name for CSM in North America might be his biggest challenge.
"The U.S. is a very mature market with a lot of well-connected, deep-pocketed players," said Andrew Zimbalist, a noted sports economist and professor at Smith College in Northampton, Massachusetts.•
__________
Greg Andrews' Behind the News will return next week.
Please enable JavaScript to view this content.