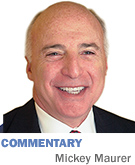 In 2010, I wrote the book "19 Stars of Indiana: Exceptional Hoosier Men." My subjects were all living, but we have lost a few: Quentin Smith, William Cook, Gene Glick and now Theodore M. Hesburgh, who died in February.
I interviewed Father Hesburgh at his office on the campus of Notre Dame on the 13th floor of the library that carries his name. Although officially retired, he worked regularly at that office dispensing advice to students, friends and associates who sought his wisdom. When I was ushered in, he was sitting behind his desk smoking a fat cigar—a violation of library rules. After more than an hour, I walked out smelling like I had been in a 1960s all-night poker game, but I was so much the better for the experience.
Already in his 90s, Hesburgh's eyesight was failing but nothing else. He was all there. He showed me the Congressional Gold Medal presented to him by President Clinton. This is the United States' highest civilian award given to express national appreciation for distinguished achievements and contributions. It was well earned.
Like Forrest Gump, Father Hesburgh was everywhere history was made. Among other posts, he was a delegate to the International Atomic Energy Agency and one of the six members of the U.S. Civil Rights Commission. He was instrumental in launching the first Peace Corps project, and he served on the Knight Commission on Intercollegiate Athletics with a task to clean up the moral mess in big time college football and basketball.
Hesburgh was busy with his duties at Notre Dame but still was away so much that he was the subject of a campus joke: What's the difference between God and Hesburgh? God is everywhere; Hesburgh is everywhere but Notre Dame.
In the course of his career, Hesburgh authored a number of books, including his 1997 autobiography "God, Country, Notre Dame," which he wrote with Jerry Reedy. With his permission I quoted liberally from that book. I particularly enjoyed one anecdote. Although it was in the book, I asked him to retell the story:
Hesburgh offered mass every day. The mass is the central part of the Catholic belief in salvation. Of all the services performed by a priest, Hesburgh felt there was nothing more important. Of the many venues in which he has said mass, he remembered an undistinguished little place in the Rome airport. "I was making a half-hour stopover between planes on my way to Jerusalem when it occurred to me that I would not reach Jerusalem until after midnight. I hurried to this small hotel and, puffing hard, spoke to the desk clerk, a woman, 'I'd like to have a room for half an hour,' I said, 'and it's not what you think it's for.' She laughed and said, 'Well then why do you want it?' I told her I wanted to offer mass and invited her to come up and take part if she did not believe me. She said she believed me, and handed me the key. I said mass, came back down to the desk, and asked her how much I owed. 'Nothing,' she said, 'you have sanctified my hotel.' I told her that I hoped one mass would do it, thanked her and hurried off to catch my plane."
In addition to the Congressional Gold Medal, Hesburgh received the President's Medal, the highest award that can be bestowed at the behest of the president of the United States, and more honorary degrees than any person in history. In 2006, Indiana Gov. Mitch Daniels honored Hesburgh with the Sachem Award, the state's highest honor.
The many awards are a fitting tribute for a man who counseled four popes and six presidents, and who held 14 presidential appointments dealing with the social issues of the time. But when asked to name his greatest role, Hesburgh would say, without hesitation, "Wherever I have been, whatever I have done, I have always in every work considered myself essentially a priest."
_________
Last month I wrote a column about the closing prayer at a luncheon speech I gave in Franklin, Indiana, in 2006 when I was secretary of commerce. That prayer offered by Mike DuKate was met with strong objections from Franklin College President Jay Moseley and from retired President Bill Martin, who both protested to the director and president of the Franklin Chamber of Commerce because of its exclusive and insensitive nature. I, too, was appalled, but remember the prayer as being more toxic than did Moseley, Martin and DuKate, all of whom insist I misquoted DuKate. If that be so, I apologize for any pain he might have suffered as a result.•
__________
Maurer is a shareholder in IBJ Corp., which owns Indianapolis Business Journal.  His column appears every other week. To comment on this column, send e-mail to mmaurer@ibj.com.
Please enable JavaScript to view this content.