Michael Browning never envisioned he'd still be in Indianapolis after arriving nearly 40 years ago from South Bend.

The Detroit native and University of Notre Dame grad decided against returning to the Motor City. Instead, he bought a business in Indianapolis and became one of the city's biggest developers. His career's twists and turns include weathering the loss of his office portfolio in the 1990s, then bouncing back by becoming a major developer of industrial real estate.

Now, in a transition that started nearly two years ago, the longtime leader of Browning Investments Inc. has finished passing the baton to John Hirschman, who will oversee the firm's ongoing mission to diversify an industrial-heavy portfolio.

"When I got here in 1976, I couldn't wait to leave," Browning, 68, recalled. "It just didn't seem like the place I would end up."

What helped change his mind? Jim Morris, then the president of Lilly Endowment Inc. and now head of Pacers Sports & Entertainment, began leaning heavily on Browning to lead several civic projects, such as the U.S. Open Clay Court tennis championships, which ran through 1987, and the 1982 National U.S. Olympic Festival held in Indianapolis.

While working to bolster the city's amateur sports movement, Browning bought R.V. Welch Investments from his boss, Robert Welch, and later renamed it Browning Investments.

He built the company into perhaps the city's most formidable office developer by first setting his sights on the Meridian Street corridor in Carmel. The firm developed more than 30 buildings with 4 million square feet of office space, including Penn Mark Plaza, Fidelity Plaza and the former Thomson Consumer Electronics headquarters.

Moving downtown, Browning Investments is responsible for such buildings as 300 N. Meridian, Landmark Center, Pan Am Plaza and the NCAA headquarters.

Dennis Dye, a principal of TWG Development LLC who left Browning Investments in 2013, said he learned more about development from Browning than from anyone else.

"He's been able to do very well, and doing it all locally, that's pretty rare," Dye said. "We're awfully lucky that he decided to move here instead of Detroit."

'Loaned executive'

Browning earned a degree in finance from Notre Dame in 1968, but had little time to revel in his accomplishment. On the day of graduation, he received his draft notice.

Browning arrived at boot camp at Fort Dix in New Jersey in September. He was sent to Washington, D.C., and ultimately to Vietnam for a year. He served as a secretary for the chief of staff of the Military Assistance Command, Vietnam—a joint-service command of the U.S. Department of Defense.

He spent two years in the Army and returned to South Bend expecting to enroll in graduate school. He instead was hired by Hickey Construction Co., a general contracting firm with strong ties to the university.

Hickey branched out into development, which led the company in 1976 to send Browning to Indianapolis as a "loaned executive" to R.V. Welch Investments. Robert V. Welch served as a director of Hickey Construction and sought Browning's assistance to develop the Windridge condominiums at 56th Street and Emerson Avenue while he ran unsuccessfully for mayor against William Hudnut.

Browning bought Welch's company in 1981 but didn't change the name to Browning Investments until 1985.

"Bob was a pretty high-profile guy, so we left it," he said.

Welch founded Fidelity Bank of Indiana in Carmel. Browning eventually bought a majority interest in the bank before selling it to Indiana National Bank.

Welch died in a plane crash in 1992—a passenger on the same aircraft carrying Frank McKinney Jr., former president of Ohio-based Banc One Corp., since bought by Chase, and Michael A. Carroll, former deputy mayor of Indianapolis.

A familiar face

Browning
R.V. Welch Investments boasted just a handful of employees when Browning bought it.

"We were pretty small and only wishing we were developers," he said.

Browning, with financial backing from family-owned chemical firm Reilly Industries, built Browning Investments into a real estate powerhouse in the 1980s. But in 1990, a weak office market forced Reilly to grab a large equity stake in 13 of Browning's properties.

Four years later, the two parted ways, with Reilly taking the office buildings and Browning the properties it had earmarked for industrial developments.

"They were our single biggest investor," Browning recalled. "I understood their position perfectly."

The development arm of Reilly Industries morphed into REI Real Estate Services LLC. That firm, led by former Browning Investments exec Mike Wells, co-developed the JW Marriott hotel downtown, a marquee project that opened in 2011 and helped the city land the 2012 Super Bowl.

Browning Investments regrouped and grew into an industrial heavyweight, partnering in 2006 with Duke Realty Corp. to develop AllPoints Midwest in Plainfield and AllPoints at Anson in Whitestown.

The two developments together still have 1,000 acres of undeveloped land that could take up to 10 years to build out, said Charlie Podell, a Duke senior vice president.

That gives Hirschman plenty of time to help Browning fully capitalize on the affiliation with Duke.

"I can tell today that John has a lot more authority," Podell said. "[Browning] has definitely transitioned, or almost transitioned, the authority to him."

Hirschman, 46, practiced real estate at Faegre Baker Daniels from 2002 to 2005. He left to join Browning Investments as its director of development and stayed until 2012. He rejoined Faegre Baker Daniels for a year before getting the call in 2013 from Browning to groom for the CEO's job.

An Indianapolis native, Hirschman is a graduate of North Central High School and DePauw University. He earned a master's degree in English at the University of Alabama and his law degree from New York University.

"I guess I'm the classic case of English-major-turned-developer," Hirschman joked.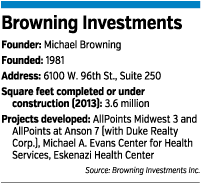 While at Browning Investments the first time, Hirschman was responsible for managing the company's joint-venture relationships with Duke. He also oversaw the development of several business parks, in addition to industrial, office and mixed-use facilities.

Expanding beyond industrial

In recent years, Browning Investments has branched beyond its industrial bread-and-butter to dip its toes into mixed-use, health care and higher-education projects.

The firm this month started construction on The Coil, a $37 million, 150-unit apartment-and-retail project along the Central Canal in Broad Ripple to be anchored by a Fresh Thyme Farmers Market.

Jamie Browning, 54, a brother of Michael, has been the face of that high-profile project. Jamie, who arrived at the firm in 1987 from an investment bank in Detroit, said he still enjoys working with his brother after nearly three decades together.

"He has tremendous business sense," Jamie Browning said. "We work on so many different types of projects it is great to get his perspective."

In Carmel, the firm plans to construct two retail buildings this year as part of an 80-acre development along North Meridian Street north of Main Street. The development is part of a larger project that also will include office space, apartments and a hotel.

Recently completed projects include the Michael A. Evans Center for Health Sciences at Marian University, an 80,000-square-foot building for Dow AgroSciences on the northwest side, the Eskenazi Health Center on 38th Street in the International Marketplace, and the Greenfield headquarters of Eli Lilly and Co. division Elanco.

Meanwhile, Michael Browning still chairs Visit Indy, serves as a director of the Indiana Sports Corp., and plans to come to work every day while taking on the role as chairman.

Much of his time is spent advising the Indianapolis Motor Speedway on track improvements, as part of $100 million in upgrades mostly funded by state loans. Most of the work is expected to be completed in time for the 100th running of the Indianapolis 500 next year.

"The transition to John is all finished," Browning said. "There are no more decisions to be made."•