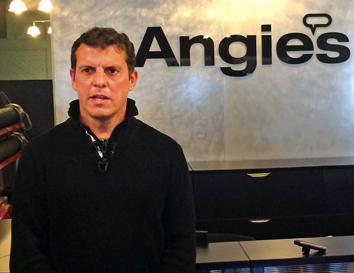 In the wake of Angie's List CEO Bill Oesterle's surprise announcement that he'll step down from the company he co-founded, some political spectators think the Republican is well-positioned for a gubernatorial run.
Oesterle announced his resignation, which becomes effective when the company names his successor, on Wednesday morning. Explaining the move, Oesterle cited plans to be more "civically involved in the State of Indiana."
Former Indianapolis City-County Councillor Scott Keller said he had no direct knowledge of Oesterle's plans, but that a run for the governor's seat wouldn't shock him.
"I would not be surprised," said Keller, a Republican. "And I suspect if he was considering it, he would have picked up the phone and called Mitch [Daniels] and had a long, long conversation about that."
Oesterle, the former campaign manager for former Gov. Mitch Daniels' 2004 run, told The Statehouse File on Wednesday that he planned to return to politics. He said he did not step down from Angie's List to run for governor, but that he wasn't ruling it out either.
Oesterle's resignation comes just a couple of weeks after he took the national stage by opposing the Religious Freedom Restoration Act, signed by Gov. Mike Pence on March 26. Critics believed the law opened the door for discrimination against gays, lesbians, bisexuals and the transgendered community. It quickly led to a national firestorm of criticism and an intense debate about the potential impact of the law.
Oesterle told the Statehouse File that he wanted to "begin the long process of repairing" the state's reputation. "That could involve helping somebody else run. That could involve working on legislative races. That could involve becoming a candidate myself."
Longtime Indiana political reporter Jim Shella wrote Wednesday on IBJ's IndianaForefront.com commentary site that there's much speculation in political circles about a primary challenge by Oesterle against Pence in 2016. Daniels' devotees have been angered by RFRA "and what it has done to the Indiana economy and reputation. … And the Daniels legacy," Shella wrote.
"I would be pleased," said Chris Douglas, a gay Republican and co-founder of gay-rights group Indiana Equality, about a gubernatorial run. "I think the governorship needs an experienced executive, someone who has vision, someone who is a unifier. I think that would be an exciting and bold move on his part."
Oesterle was one of the most outspoken critics of RFRA, announcing March 28 that Angie's List would halt a $40 million expansion plan that involved state incentives. Even after Gov. Mike Pence signed a fix to the law that allayed some opponents' concerns, Oesterle said the fix didn't go far enough.
"I want them to either repeal the law or modify the civil rights code," he told IBJ in an interview before Pence signed the fix. He specifically called for adding sexual orientation and gender identity to the state's discrimination code.
Oesterle said he had "complete buyer's remorse" after giving Pence's 2012 election campaign at least $150,000, hoping he could persuade Pence to change his conservative views on gay rights.
Oesterle has a long history of supporting gay rights, from bankrolling gay-rights advocacy groups to enacting hiring policies on Daniels' campaign that won acclaim from the LGBT community.
A 49-year-old father of six, Oesterle served as an administrative assistant to former Gov. Robert Orr as part of a fellowship after graduating from Purdue University in 1987. In 1988, he was appointed director of corporate affairs for the Hudson Institute, an Indianapolis-based public policy research institute where he met Daniels.
The West Lafayette native earned his MBA from Harvard Business School in 1992. He later became a partner with CID Equity Partners, a venture capital firm where he met Angie Hicks. He and Hicks co-founded Angie's List in 1995, and Oesterle became its chief executive in 1999.
Observers said that if he intends to run, it's not too early for the wealthy executive to get started. Keller said he might be known in Indianapolis, but he should tour the state to begin building name recognition.
Jon Mutz, a former Republican lieutenant governor and longtime Indiana party leader, said he would be surprised if an Oesterle gubernatorial run came to fruition.
"We have an incumbent who is most likely to run," Mutz said, "and it's very, very difficult to beat an incumbent."
Mutz, 79, said he's usually one of the first to hear about interest in statewide offices, and had yet to hear about Oesterle. He also said that being more civically involved could mean a legislative run.
But he said Oesterle is well-positioned financially for a run, if he so chooses. "He does have one capability that would help, and that is that he's a good fundraiser and has a rather good network of people he could rely on."
Also on IndianaForefront.com, political reporter Eric Berman said that Oesterle has solid bona fides for a gubernatorial run: "Ties to the Republican establishment, a presumed ability to raise money, a demonstrated ability to speak clearly (something that has eluded past businessman candidates)."
"The first test of a putative Oesterle campaign will be whether the executives who joined forces with him in battling [RFRA] are mad enough about that to give him a political war chest—and Pence has a $3.5 million dollar head start," Berman wrote.
Douglas said now's the time to shake things up.
"I think there has to be a sense of disruption to what otherwise would be an orderly process of renominating a sitting governor," Douglas said. "If you are going to challenge that process, you have to begin introducing into people's minds the idea that that renomination is not inevitable."
Oesterle's strong gay-rights stance is likely to create some friction should he run, particularly among social conservatives. Keller, also a gay-rights supporter, said Oesterle might be a tough sell to some, but not all.
"If I were Oesterle and I was sitting down with a Republican county chairman, I would say, 'We need to get the young vote and the moderate vote. Do you want to win this election or not?'"
Please enable JavaScript to view this content.