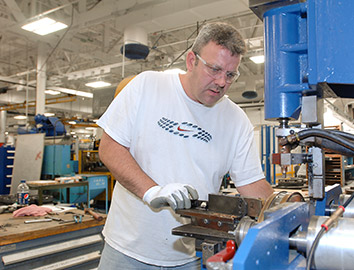 Jet engine maker Rolls-Royce Corp. is planning to invest hundreds of millions of dollars to upgrade its Tibbs Avenue plant, a project that would bring the factory up to par with newer company facilities elsewhere and solidify the future of its Indianapolis operations for decades to come.
Jim Guyette, who is retiring next month as CEO of Rolls-Royce North America, said during an IBJ aviation and aerospace breakfast Tuesday morning that after years of study, "we are putting the finishing touches on these plans and will have more to say in the weeks ahead." He called the existing Tibbs Avenue facilities, built in the 1940s, "relics of the past" that are not competitive.
Also at the event, Purdue University President Mitch Daniels announced plans to create a 980-acre aerospace technology park in West Lafayette that will house public and private aerospace research facilities.
Both Guyette and Daniels were featured speakers at Aviation & Aerospace in Indiana, a symposium sponsored by IBJ and the Indiana Economic Development Corp.
Everything but the concrete at the Rolls-Royce plant is obsolete, said Tom Bell, president of Rolls-Royce Defense and a panelist at the event. The World War II-era plant was designed to last five years and is in desperate need of wide-ranging improvements to position it for the long term. (A video interview with Bell appears below.)
The site employs 1,500 workers making engines for aircraft ranging from passenger jets flown by locally based carrier Republic Airways Holdings to the Global Hawk surveillance plane.
Asked after the event whether the investment would result in new jobs, Guyette said: "It's solidifying what we have and mondernizing our facilities to make them competitive."
Neither Guyette nor Bell would release cost projections, though Bell acknowledged the tab would run into the hundreds of millions of dollars.
A decision by the board of directors could come this summer. A green light would spark five years of upgrades that likely would result in the elimination of some unneeded plant space.
The British company's headquarters is in London, but its North American headquarters is in Reston, Virginia. Its largest North American manufacturing plant is at Tibbs Avenue and Raymond Street. Most of its white-collar work force operates from a former Eli Lilly and Co. campus on the south edge of downtown. About 1,500 of the 2,500 downtown workers are engineers.
The Purdue project aims to attract more aviation companies to the campus.
Purdue Research Park Aerospace District in West Lafayette will be the university's fifth research park—after locations in West Lafayette, Indianapolis, Merrillville and New Albany. Existing locations house 260 companies employing 4,500. The firms are involved in research, education and technology.
As part of the plans for the new park, the Purdue Research Foundation and Purdue aviation technology alumnus Scott Niswonger will acquire Lafayette Aviation, a fixed-base operation selling fuel, maintenance and other services. Niswonger, an Ohio native, founded companies including Greenville, Tennessee–based trucking firm Landair Transport Inc.
The aerospace district, which encompasses the Purdue University Airport and other land, will provide opportunities for aerospace companies interested in collaborating with Purdue to build research and development facilities.
During a panel discussion that was part of Tuesday's event, Bell and other aerospace executives said Indiana is doing a lot of things right to create a welcoming place for the industry, but that there is room for improvement.
Other panelists included Bob Hoffman, director of operations at electronics maker BAE Systems in Fort Wayne; Eric Matteson, Lafayette project leader for General Electric Aviation; and Todd Probert, vice president of mission support and modernization for Raytheon Co.
In the panel discussion and in interviews, they all praised what they said is an unusually high degree of cooperation among government officials in Indiana.
Officials from local to county to state levels don't seem to be competing with each other so much as trying to land investment and jobs, they said, adding that such cooperation isn't common in other states.
But the panelists said the state can do more to position itself to be attractive to aerospace companies.
Bell said science, technology, engineering and mathematics—STEM—education can't be emphasized too much from the earliest years of education through the graduate level. Other places in the world already are.
In a related vein, Matteson said the jet engine plant he's bringing online in Lafayette this winter is making a priority of hiring people who not only excel in STEM skills, but also are able to think entrepreneurially, as if they're in a small company. So-called "soft skills" like leadership figure large. In fact, much of the hierarchy of a traditional manufacturing plant will never have a chance to take root at the new site, he said.
Indiana has plenty of students who fare well in STEM disciplines, Bell said. The trick is to persuade them to stay after graduating.
Increasingly, newly minted engineers want to work at places like Rolls-Royce's downtown Indianapolis campus, and live in lofts and walk to entertainment. Indianapolis needs to keep making itself attractive, he said.
Please enable JavaScript to view this content.