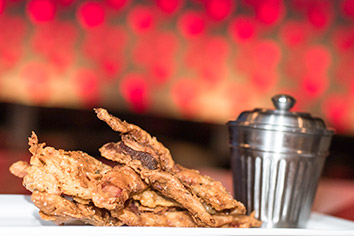 Bacon provides the focus of cooking shows, T-shirts and a substantial portion of Jim Gaffigan's stand-up act. And Indiana is a prime pork producer, with residents notorious for risking heart problems in search of culinary adventure. (Side note: only four months until the Indiana State Fair!)
So it was just a matter of time before some restaurant here put those tasty strips front and center. I'll admit, the first item in the name of new downtown restaurant Bacon, Legs & Turntables (1 N. Meridian St., 737-2662) grabbed my attention.
Who would have thought, though, that a restaurateur would put bacon in such curious company? Legs—implying a Hooters-like focus, only on the lower extremities. Turntables—translating to dance club?
Well, at least you can't say BL&T is copying anyone's concept.
The odd shape of the former King Cole/Nicky Blaine's location just off Monument Circle means you might encounter the hostess at street level (as we did) and be instructed to follow her down into the basement dining area. Given her tight, mini shorts, I was thankful to avoid the awkwardness that would have resulted if we had to follow her up a flight of stairs.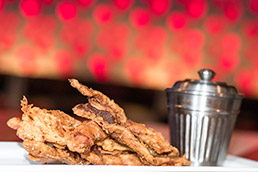 Country Fried Bacon, served with a tub of country gravy for dipping, is a BL&T staple. (IBJ Photos/ Eric Learned)
Downstairs, a brightly lit red-white-and-black-dominant space strives valiantly for swankiness—something a bit tricky to pull off when the lights are bright for lunch. It's even trickier when a cornerstone item on your menu is a Smoked Turkey Leg ($10.95) worthy of Medieval Times. (You see, the Legs in the restaurant name refer to a kitchen specialty as well as to the gams on the female servers.)
The wood-smoked limb quickly evoked memories of Thanksgiving—and a reminder that the tendons running through the leg can make this Renaissance Faire delicacy much less enjoyable than imagined. Bacon mashed potatoes were a tasty-enough complement, but—surprise!—the cranberry jam was actually the stand-out item on this plate. Other leg choices included duck, frog, chicken and roasted bone marrow.
This clearly not being a place for calorie counting, we indulged in Country Fried Bacon ($8.95), encased in buttermilk breading and served with a country gravy dipping sauce. Crunchy and dark, the bacon demonstrated some kitchen care, but not enough flavor to make us finish the plate. Blackened Gator ($12.95) in a chipotle barbecue sauce with a covering of onion straws and a sweet corn maque choix tried a bit harder but didn't transcend the novelty.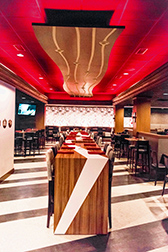 A bacon strip hangs over the bright BL&T decor.
My brief encounter with the awkwardly named MA! The Meatloaf Sandwich (an $8 choice on the BL&T Express Lunch Menu) consisted of one bite and a request that the waitress take the mushy mess away. The best that can be said about the overworked mound of beef, pork and chorizo layered with tomato chutney and smoked gouda on Texas toast is that it was removed quickly with an offer to replace it.
My second pick, a Catfish Po Boy ($11.95), was a marked improvement. Other options include reasonably priced half-sandwich/soup or salad combos ($7).
As to the turntables, there were none active on our visit, those being reserved for the late-night crowd. BL&T is open around the clock on Fridays and Saturdays, encouraging visits by those still hungry after indulging elsewhere.•
—Lou Harry
 
Please enable JavaScript to view this content.