A showdown is brewing over autism therapy in Indiana.

After an Elkhart couple with an autistic son sued Indianapolis-based health insurer Anthem Blue Cross and Blue Shield this month, autism families around the state have started a campaign to get Anthem to change its policy for covering therapy for school-age children.

Two central Indiana residents, both with autistic children, have started the private Facebook page IndianaFightForABA, which more than 1,200 people have joined so far. They have gathered more than 200 supporters for an online petition on Change.org, and they are planning to stage a rally in May on Monument Circle, in front of Anthem's corporate headquarters.

"Our autism community has said, 'OK, we're done. We've had enough,'" said Jane Grimes, the publisher of Autism Companion, a Noblesville-based magazine for families and individuals with autism, who started the Facebook page along with Carlos Gonzalez. "Our autism community is now rallying around this family and this lawsuit."

Grimes
Filed April 9 by Elkhart residents Chester and Kathi Pierce on behalf of their autistic son, Wes, the lawsuit seeks class-action status to challenge Anthem's policy of denying coverage for autism therapy during school hours. That 3-year-old policy has forced some families to change insurers and some to go with less of the therapy they say helps their children.

It has also pinched the finances of therapy providers around the state, which previously enjoyed generous insurance coverage that stems from the mandate for autism coverage passed by the Indiana General Assembly in 2001. That was the first such statute in the nation and remains one of the broadest. The Pierces' lawsuit claims Anthem is violating it.

Tony Felts, a spokesman for Anthem, declined to discuss the lawsuit. But he said the health insurer—by far the largest in Indiana—is committed to getting autistic children the right treatments.

"Since the passage of Indiana's autism mandate, Anthem has had a collaborative relationship with autism advocacy organizations, provider representatives and state regulators because we all have the same goal: to ensure that Hoosiers with autism receive care that has been proven to help, that's given at the appropriate time and in the appropriate setting so that the child may live as happy and productive a life as possible," Felts wrote in an email. "We recognize that no two autism cases are alike. Therapy that works for one individual may not be effective for another. In partnership with providers, parents and educational institutions, Anthem is paying for the care that is helping kids with autism spectrum disorders live a better life."

In May 2012, Anthem sent a letter to families with autistic children stating that it would no longer pay for therapy for school-age children during the time they are or could be in a public school. Anthem claims the federal Individuals with Disabilities Education Act requires public schools to provide services to autistic children via individualized education programs, known as IEPs.

"Anthem cannot duplicate coverage for services that are available through the public school system," Anthem stated in the letter to parents.

The insurer has physicians with specialties in psychiatry—but not necessarily autism—review therapists' treatment plans for each patient. Anthem never issues a complete denial of coverage. But for school-age children, it often reduces the number of treatment hours for which it will pay from the amount requested by therapists.

Reduced therapy

Autism parents and their therapists say that, since 2012, Anthem has typically paid for 20 to 25 hours per week of therapy for school-age children.

In the case of Wes Pierce, who is 12, Anthem cut the number of therapy hours from 40 to 25 in July 2013. That was six months after the Pierces joined an Anthem plan, after Chester Pierce took a job at South Bend-based Master Metal Engineering.

The Pierces say they can't afford to pay for therapy on their own. Autism therapy, which is known formally as applied behavior analysis, or ABA, can cost $30,000 to $50,000 a year—if delivered 40 hours a week, year-round.

Public schools receive about $8,400 per year to pay for extra services needed for each special-needs student they enroll.

The Pierces previously had tried services in the public schools. Kathi Pierce, in an affidavit filed with the lawsuit, said her son was in public school from age 3 to 8. However, he made so little progress that the goals in his IEP never changed during those six years.

"While attending school, W.P. made no progress in potty training," Kathi Pierce stated, referring to her son by his initials. "In fact, his progress in this area actually regressed because he was left on the toilet for long periods of time.

"W.P. also gained weight and experienced unexplained pain in his back and buttocks area while attending school," Pierce added. "I later learned from another parent that W.P. was being left strapped into his wheelchair for most of the school day. I believe that this was because the school lacked the resources to directly manage W.P. in a productive manner."

In early 2011, the Pierces removed their son from public school and started commuting to Fishers so Wes could receive ABA therapy from the Behavior Analysis Center for Autism. With 40 hours of therapy a week, Wes improved his ability to walk and talk. He was able to exercise, which brought his weight down, and his back pain disappeared.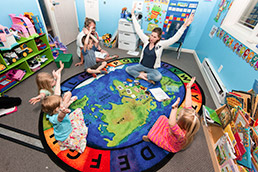 Health insurer Anthem has been paying for fewer hours of autism therapy for school-age children at such providers as the Behavior Analysis Center for Autism in Fishers. (IBJ file photo)
But after Anthem cut the number of therapy hours it reimbursed, and cut it again to 20 in July 2014, Wes' progress reversed. He now uses only five to 10 words, Kathi Pierce stated in her affidavit. Wes' health is complicated by other health issues, including asthma, chromosomal anomaly and sleep disturbance.

Kathi Pierce appealed Anthem's coverage decision in September. On Oct. 31, Anthem denied the appeal, saying 40 hours of therapy was "not medically necessary." A later second appeal was also denied.

"This member's treatment plan and behaviors do not appear to need full-time ABA therapy," wrote Dr. Timothy Kennedy in Anthem's most recent denial letter. "Education, recreational and vocational services are not covered benefits of your health plan."

Kennedy encouraged the Pierces to pursue an individual learning plan with their local public school for services that would help Wes with employment and independent living.

Ten days before that denial, Cathy Lammer, an autism parent in Kokomo, posted a note on her Facebook page asking for parents to serve as plaintiffs for a lawsuit against Anthem. After the second denial from Anthem, Pierce agreed to file suit.

Heading to court

It didn't have to come to this, noted Michele Trevedi, manager of The Arc Insurance Project at The Arc of Indiana, which provides services to Hoosiers with intellectual and developmental disabilities.

She said autism advocates and families have had meetings the past three years with Anthem's medical directors, ABA therapist and officials from the Indiana Department of Insurance. But she said Anthem insisted on treating the issue case-by-case, rather than "at the systemic level."

"We were very concerned that this would lead to litigation," she said.

The lawsuit is being led by Seattle-based law firm Terrell Marshall Daudt & Willie PLLC.

The lawsuit alleges that Anthem's policy violates both Indiana's autism coverage mandate and the federal mental health parity law, which requires insurers to cover mental health services to the same extent they cover services for physical health needs.

"Anthem's determinations improperly conflate clinical ABA therapy with the educational services provided by Indiana public schools," the Pierces' lawsuit states.

Tom Blessing, a Carmel attorney who has built up a specialty helping families with autistic children, put it more bluntly. In an April 21 post on his firm's website, he wrote, "Anthem's argument is absurd, akin to denying benefits for a doctor's office visit and prescription medications for your sick child because he could have gone to the school nurse."

Several parents of autistic children view the Pierces' lawsuit as the best way—short of new legislation—to properly enforce the state's autism insurance mandate.

"This lawsuit is very important to autism families," wrote Carlos Gonzalez, the autism parent who launched the IndianaFightForABA Facebook page with Grimes, in an email. "It will establish a precedent and perhaps influence Anthem to rethink their poor decision."•