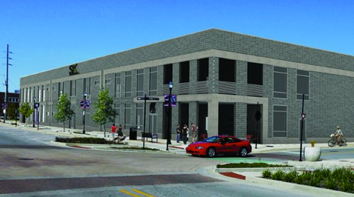 Retired IndyCar driver and racing team owner Sarah Fisher announced plans Thursday to open a 60,000-square-foot indoor go-karting facility in Speedway.
Speedway Indoor Karting, or SIK, is scheduled to open in April 2016 at 1067 Main St., Fisher said, a month before the 100th running of the Indianapolis 500.
The center will feature a 14-turn road course with multiple elevation changes as well as a banked oval track. The oval will be sunk into the floor to enable viewing for spectators on both floors of the facility.
SIK will be owned by Fisher and her husband, Andy O'Gara, whose family owns O'Gara's Irish Pub in Beech Grove. The center is expected to employ 35 to 40 people.
An 8,000-square-foot onsite family restaurant will be called 1911 Grill in honor of the year of the first Indianapolis 500.
Also planned are multiple bar and entertainment areas, including covered outdoor seating on both levels of the building.
SIK will be located a few blocks from the CFH Racing IndyCar shop that is co-owned by Fisher and driver Ed Carpenter. CFH scored its first IndyCar victory Sunday with driver Josef Newgarden.
"Sarah Fisher's dedication to Speedway and its growth is valued by everyone in the community," Speedway Town Council President David Lindsey said in a written statement. "The development of this new, state-of-the-art go-karting facility near the world-famous."
 
Please enable JavaScript to view this content.