With a second massive youth sports complex on the horizon in Hamilton County, is there enough demand to support both?
Officials in Fishers and Westfield say they aren't worried about competition, arguing demand is high and their respective sport complexes will offer sufficient variety. National experts concur, even as participation in youth sports has dipped.
Westfield plunged into the recreational-sports sector last year when it opened $45 million, 400-acre Grand Park Sports Campus. Now Fishers is dipping its toe in the water, with a $76.4 million indoor sports pavilion in Saxony Village, proposed by Noblesville-based GK Sports and Entertainment. It could open by next spring.
The two complexes will be separated by less than 20 miles—and will host youth sports on the heels of a 4-percent nationwide drop in participation among boys and girls ages 6 to 17 in the four most popular team sports—baseball, basketball, soccer and football—from 2008 to 2012, according to a study by The Wall Street Journal. Cross country and girls' tennis have seen growth, but neither Hamilton County facility serves those sports.
The proposed sports pavilion in Fishers would include an arena that can seat up to 6,000. It could open by next spring. Officials predict it will complement Grand Park. (Photo courtesy of city of Fishers)
David Hollander, assistant professor at New York University's Tisch Center for Hospitality, Tourism and Sports, said parents still spend so much money on youth sports—an estimated $7 billion annually—that both facilities can probably succeed.
"Why would these two towns so close in proximity think there's enough business out there for them to both make sense economically?" Hollander asked. "My answer is … I am not surprised."
If both complexes are well-managed, both should thrive, agreed Evan Eleff, vice president of planning and funding for Florida-based Sports Facilities Advisory.
"There may be some competition, but competition is a healthy thing," he said.
Eleff said the trend in youth sports has been toward more competitions. Instead of a child playing multiple sports and participating in fewer tournaments, kids are playing one sport and competing more often.
"The total number of participants has decreased, but the total number of games has increased," he said.
Just different enough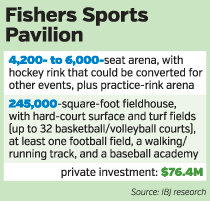 If plans unfold as expected, Grand Park will soon have both an indoor soccer facility and an indoor basketball and volleyball fieldhouse. The soccer facility is set to break ground in June; the fieldhouse is awaiting a Westfield City Council vote.
The Fishers sports complex will also have up to 32 basketball and volleyball courts, with the ability to add turf to the hard-court surface.
"We view them as competition; however, their model is different," said Andy Card, the Fishers entrepreneur leading Westfield's Grand Park Fieldhouse project. The $8.1 million fieldhouse will include eight courts for basketball and volleyball and would be privately-owned and -operated.
The basketball component of the Fishers development will also be privately built, but the developer will lease it to the city part of the time for public use.
Director of Hamilton County Sports Authority William Knox said the Westfield and Fishers complexes should be different enough for both to succeed. Grand Park will still be distinguished by its 400 acres of outdoor space, including 31 soccer fields and 26 baseball diamonds; the Fishers facility will offer an indoor baseball option and a 4,200- to 6,000-seat arena with ice rinks for hockey and figure-skating competitions.
Near capacity
Grand Park has been a hit since opening late last spring. Its biggest weekend to date was April 24-26, with more than 400 teams participating in softball and soccer tournaments.
Card expects the basketball and volleyball fieldhouse to see similar success; he said several tournaments have already booked for 2016.
"We are nearing capacity," he said. "I believe there is a need for both facilities."
Yet participation in high school basketball has dropped, according to the National Federation of State High School Associations. In 2009-2010, more than 12,000 boys and 9,000 girls played basketball; in 2012-2013, 11,000 boys and 8,300 girls participated.
Hollander said he is surprised to hear participation is down but doesn't think it will slow the industry.
"Even if it did go down, maybe it's because the only people left … are the parents who can pay for it," Hollander said. "These people will be able to afford it always."
He noted the youth-sports segment of tourism and travel rivals what fans spend on professional-sports travel.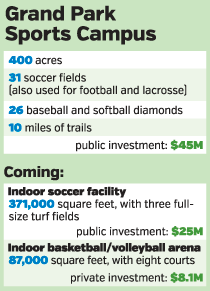 "It is a business that is only getting bigger," he said.
Fishers Mayor Scott Fadness has cited a "tremendous need" for an indoor sports complex in the city and believes it will complement Grand Park.

Fadness
In a survey the city sent to residents, 80 percent responded that they'd be willing to pay $20 annually for an indoor recreational center.
As part of the arrangement with the Fishers sports pavilion, the city will partner with the Southeastern Program Recreational Team Sports to allow the league to use the basketball courts for part of the school year.
In Fishers, the YMCA and Best Choice Fieldhouse host boys' and girls' basketball tournaments with several full-size courts, but Fadness said it's not enough space.
Knox, of the Hamilton County Sports Authority, said larger tournaments are already coming to the county, and the Fishers complex will allow play to happen in one location instead of spreading out among schools and community centers.
Westfield Mayor Andy Cook said, he didn't expect another sports facility to be built soon after Grand Park in Hamilton County, but he also never intended to have a monopoly on the youth-sports industry.

Cook
"I believe it will have a very positive impact," Cook said. "To add other sporting facilities in this county right now is where we want to go."
Knox said "there's always competition" to snag a specific tournament or event, but he'll help each facility strategize on what would work best.
He estimated that the Fishers sports pavilion will bring in $28 million annually in direct spending and have a total economic impact of $112 million. According to a recent study by a Phoenix-based economic consultant, Grand Park had a $69.2 million economic impact in 2014. In 2015, the park is expected to attract 1.26 million visitors and have a $100 million economic impact.
"We're very hopeful and very positively thinking that they will benefit each other," Knox said. •
Please enable JavaScript to view this content.