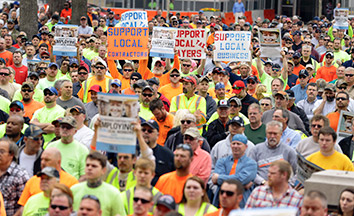 The 2015 General Assembly wrapped up its "long session" April 29 by passing a biennium budget. Lawmakers undertook a long list of measures, some of which had yet to make it to the desk of Gov. Mike Pence by IBJ's deadline. Below is a rundown of the fate of some high-profile legislation:
Construction wage
A bill repealing the common construction wage became law despite 13 House Republicans splitting with their caucus to vote against it.
The legislation, which prompted a few thousand workers to gather for a Statehouse protest, eliminates the boards that set the wage workers must be paid on most state or local government projects.
Supporters said it will save tens of millions of tax dollars—as much as 20 percent of the cost of a project, while opponents disputed the savings and argued the change will open the door to low-paying, out-of-state contractors.
Ethics standards
Lawmakers passed an ethics overhaul that requires more financial disclosure by lawmakers and prohibits elected officials from using state resources for political purposes.

Turner
Rules are tightened on the state's one-year "cooling off" period for state agency officials taking private-sector jobs that would deal with their former departments. It also broadens personal financial disclosures of lawmakers, requiring them to list any close relatives who are lobbyists and business interests worth at least $500,000.
The measure barring elected officials or employees from using state money, facilities or personnel for political purposes followed a state inspector general report that found extensive use of staff and a state-issued SUV during former Superintendent of Public Instruction Tony Bennett's 2012 re-election campaign.
The measure also was sparked by a review of former House Speaker Pro Tem Eric Turner's private lobbying last year to kill legislation that could have cost his family's nursing home business millions of dollars.
Indy Eleven stadium
A bill that would have funneled state money into a new or substantially renovated soccer stadium for the Indy Eleven died in the final hours.
The bill's author, Rep. Todd Huston, R-Fishers, said the issue could be taken up again in coming years: "Better not to do it than to put together a bad bill."

Huston
A Senate version of the bill called for up to $20 million in state money to help expand and renovate Michael Carroll Track and Soccer Stadium at IUPUI, where the Indy Eleven play their matches.
That was scaled back from a House version, which would have helped fund a new $82 million arena in an undetermined Indianapolis location.
Energy program
Lawmakers passed a bill authored by Sen. Jim Merritt, R-Indianapolis, allowing utilities to set their own goals for energy savings.
The energy-efficiency bill replaces the Energizing Indiana program, which the Legislature canceled last year over objections from environmental groups.
Critics, including large energy users, said the program, paid for through additional fees on electric bills, was becoming too expensive.
The new legislation gives companies the authority to create and submit at least one energy-efficiency plan to the Indiana Utility Regulatory Commission every three years. The bill also allows large energy customers to opt out of the energy-efficiency plan.
'Religious freedom' act
Pence signed the Religious Freedom Restoration Act, prompting international outrage and protests that led to an amendment designed to prohibit discrimination against gay people.
Pence signed "the fix" after he was pilloried for refusing to answer a question from television host George Stephanopoulos about whether the legislation would allow discrimination.
Business leaders of such Indiana-based companies as Eli Lilly and Co. and Cummins Inc. criticized the legislation, as did big employers headquartered outside the state, such as Salesforce.com. Angie's List CEO Bill Oesterle canceled a headquarters expansion over the RFRA and later said he would resign his post and become more civically involved. A former campaign manager for former Gov. Mitch Daniels, Oesterle is widely expected to get involved in the 2016 governor's race.
The legislation originally prohibited any laws that "substantially burden" a person's ability to follow his or her religious beliefs. The definition of person includes religious institutions, businesses and associations.
The amendment prohibits service providers from using the law as a legal defense for refusing to provide services, goods, facilities or accommodations. It also bars discrimination based on race, color, religion, ancestry, age, national origin, disability, sex, sexual orientation, gender identity or U.S. military service. Churches, religious schools and ministers are exempt.
Nursing home construction
Lawmakers passed a three-year moratorium on construction of most new nursing homes.
Supporters said the ban was needed because Indiana has thousands of unused nursing home beds, which are costing the state millions in annual Medicaid costs based on a payment formula that includes construction costs.
Those against the measure said it violates free-market principles and will cost jobs.
A similar proposal failed in 2014 after private lobbying by then-House Speaker Pro Tem Eric Turner, whose family business faced losing millions of dollars in revenue if the moratorium passed. Turner resigned from the Legislature in November.
Sunday alcohol sales
A bill that would have allowed Sunday alcohol sales died in the House before it could move to the Senate.
The bill's author, Rep. Tom Dermody, R-LaPorte, said he didn't have the votes to move the bill to the Senate, largely because it included new restrictions on the way alcohol could be sold at drugstores, big-box stores and other retailers.
The measure was intended to lift Indiana's 80-year-old ban on Sunday retail alcohol sales. Indiana is the only state to have such a ban.
Ritz, appointed
Lawmakers allowed Superintendent of Public Instruction Glenda Ritz to remain as chairwoman of the State Board of Education until after the next election.

Ritz
After Dec. 31, 2016, the state board will elect its own chair, under Senate Bill 1. Voters will continue to choose a superintendent of public instruction, who oversees the Department of Education. The bill passed the House 60-38 and the Senate 31-17.
Charter school partnerships
Lawmakers passed two bills that allow all Indiana school districts to form "innovation network schools," which have the same freedoms as charter schools but still count as part of a district for purposes of funding and the district's A-F grades.
The new authority could be a way for school districts to avoid having one of their poor-performing schools taken over by the State Board of Education.
The legislation, House Bill 1009 and Senate Bill 566, was prompted by a 2014 law that fueled collaborations between Indianapolis Public Schools and such charter schools.
Regional cities
The Indiana Economic Development Corp. will receive $84 million over the next two state fiscal years for its Regional Cities initiative.
The IEDC will set up competition among regional economic development groups for a large pot of cash that can be spent on improvements meant to attract new residents.
Senate fiscal leaders hesitated to fund the initiative from existing, dedicated sources, as proposed by the Pence administration. The budget bill provided for full funding via a two-year tax amnesty program. The Department of Revenue will accept past-due taxes without penalty.
Sun King
Pence signed a bill that will help Indianapolis-based Sun King and other craft brewers grow their businesses.
Senate Enrolled Act 297 raises the annual limit on small brewers' production from 30,000 barrels to 90,000 barrels. The limit applies to the aggregate of a craft brewer's facilities.
Sun King has been planning an $8.8 million brewing and event facility in Fishers, based on the expected increased production limit.•
—Associated Press, The Statehouse File, IBJ staff
Please enable JavaScript to view this content.