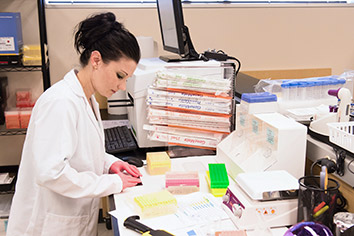 Indiana leaders focused on getting investors to fund promising Hoosier companies when the leaders launched a life sciences initiative in 2002.
But more recently, life sciences leaders have begun, in small ways, to broaden their focus from companies to people.
Now, BioCrossroads, the life sciences organization created 13 years ago, is looking at how to ramp up its efforts to nurture and attract talented individuals—in the hope they create more of the promising companies investors want to fund.
Because, even as investors fell in love again last year with life sciences companies, Indiana continues to produce fewer investment deals than other states—even other Midwestern states.
"We never really did a very good job, or enough of a job, working on talent development," said David Johnson, who has been CEO of BioCrossroads for the past decade.
The organization is conducting an analysis of how talent and innovation are connected, which it hopes will guide its efforts. The results of the study are due out by early summer.
Indianapolis is doing fine at attracting the highly educated people who are critical for high-tech industries such as the life sciences.
One of six workers in the Indianapolis area holds a graduate or professional degree, ranking the metro ninth in concentration of such highly educated workers, according to Cleveland State University researchers. Indianapolis placed slightly behind Chicago and New York and a little ahead of such cities as Denver and Minneapolis.
Also, Indianapolis saw the second-most-rapid increase in workers with advanced degrees from 2005 to 2013, behind only Providence, Rhode Island.
MORE FROM IBJ
To see a video from the power breakfast,
click here
. To read a transcript of the panel discussion,
click here
.
"Life sciences has been a part of this, clearly, if you look at the growth of the companies in this region and Indiana that have been growing over the course of the last decade," Bill Weldon, global vice president of research and development at Greenfield-based Elanco, the animal health subsidiary of Eli Lilly and Co., said during the IBJ Life Sciences Power Breakfast on April 24.
But really successful tech clusters—such as Silicon Valley, San Diego and Boston—do more than just attract talented people: They also give individuals, not just companies, opportunities and resources to develop ideas into companies.
Indianapolis doesn't have enough of the right kinds of people in life sciences, particularly scientists looking to start companies and entrepreneurs with a proven track record, Johnson said. The city needs to do a better job of getting folks like that to interact.
"We need a place to be able to do that so that people from larger company environments and startups and academic colleagues can have places to encounter each other and work together," he said during the breakfast. "The communities that have been the most successful in this area have multiple places like that. We really don't."
It took decades—and an unusual amount of federal research spending—to develop the innovation clusters in Silicon Valley, San Diego and Boston. But a focus on individuals has paid off more recently even for cities more similar to Indianapolis.
Life sciences leaders in St. Louis, for example, have started a series of programs focused on individuals since that city launched a life sciences initiative in 2001. Those efforts have started to bear fruit in the past four years.
BioGenerator, St. Louis' counterpart to BioCrossroads, offers funding and lab bench space to individuals, even at what it calls the concept phase.
To date, it has funded 65 companies, with two-thirds of them at just a concept or pre-seed stage.
When Pfizer Inc. and other major life sciences employers in St. Louis were laying off workers during the Great Recession, a St. Louis business incubator created the Square One program to help some of the displaced professionals become entrepreneurs.
Square One offers free working space and conference rooms, a 10-week instructional program and mentorship by experienced entrepreneurs on technology selection, market assessment, and early company development.
Since 2011, Square One has graduated 57 companies or entrepreneurs with ideas. One of Square One's 2011 graduates, Nanopore Diagnostics LLC, went on to win $140,000 in grants for its plans to develop tests that can detect bacterial infections in just 20 minutes.
Of that money, $50,000 came from Arch Grants, a St. Louis organization that issues non-dilutive grants to startups around the world. The rest came from two separate competitions for entrepreneurs run by St. Louis' Washington University.
"You need to go all the way back to the idea stage, that isn't really ready for funding," said Ken Harrington, a retired Washington University business professor who runs a consulting firm called the Bayberry Group that helps cities improve their entrepreneurial cultures. "If at that idea stage, you can take that lone wolf activity and put it into a community setting with mentors and other entrepreneurs, then it morphs and gets positioned more quickly."
Washington University also spawned groups of graduate students who offer help to budding companies. The Balsa Group, which is run by doctoral and post-doctoral students, does consulting studies for professors and small life sciences companies for modest fees. Also, Idea Labs, run by doctoral and medical students, gives small grants to develop pieces of research from around the university.
The efforts have helped put graduate students at the helm of new companies based on scientific breakthroughs of their professors.
"Faculty do become founders, but it's not the norm when you look across the activity that occurs," Harrington said. "When you look at even the most entrepreneurial faculty members at MIT and Stanford, the company ends up being run by the graduate students."
Trying new tricks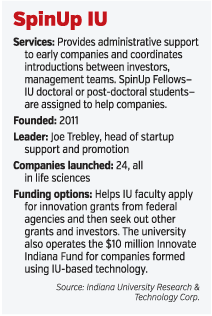 Indianapolis has a larger life sciences sector than St. Louis, both in terms of jobs and companies attracting funding.
But groups in Indiana are now mimicking St. Louis' example.
The Indiana University School of Medicine started SpinUp in 2011 to help professors form corporate entities and apply for innovation grants from the National Institutes of Health. SpinUp then tries to pair the companies that get funded with graduate students or with experienced entrepreneurs, who can help raise more money.
SpinUp has helped form 24 companies; six of them have won Small Business Innovation grants totaling more than $2 million from NIH.
Purdue University created Purdue Foundry in 2013. It has programs similar to SpinUp's and has 53 startups in its portfolio, of which 23 are life sciences companies.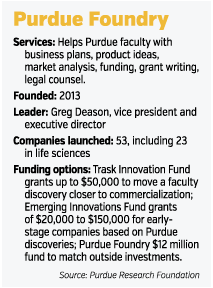 "Now, there are a lot more companies that are starting or emerging," said Wade Lange, who serves as CEO or a consultant to multiple life sciences companies in Indianapolis. "You can just look at what's at Purdue and the Foundry and [IU's] SpinUp Program—there are a lot of startups here."
And more are getting funded. In 2014, 15 life sciences companies in the Indianapolis area raised $42.5 million, up from just seven companies raising $11.5 million in 2011.
But other cities are getting far more capital. Cleveland saw 40 life sciences companies raise more than $300 million last year, and in Minneapolis, 64 life sciences companies raised more than $400 million.
How to close that gap now bedevils Indiana's life sciences leaders.
BioCrossroads' Johnson hopes the launch of the Indiana Biosciences Research Institute—which received its initial funding two years ago—will help. He hopes to locate it near the budding "innovation district" being created by IU and city leaders along Indiana Avenue.
That could help create a "place" for individuals interested in life sciences to interact.
But other ideas are floating around, too.
Some think the publicly funded 21st Century Research & Technology Fund should take a portion of the $40 million it invests in companies and use it for talent recruitment.
Talent recruitment is important to the organization that administers that fund, the Indiana Economic Development Corp., but it has never considered using the funds that way, said IEDC spokeswoman Abby Gras.
Some think Indiana should create something like The Mind Trust, an Indianapolis-based philanthropic group that makes $200,000 grants to education innovators, so they can spend two years in Indianapolis developing and deploying their ideas.
Since its inception, Mind Trust's fellowship program has attracted more than 3,600 applications from around the world.
Joe Trebley, director of IU's SpinUp program, said having a "Mind Trust for the life sciences" would be great—it would just have to be a much-better-funded program.
"Life sciences executives who could bring the support of [early-stage] investors are very well paid in the marketplace," Trebley said. "It would be a very expensive Mind Trust. There's a real gap there in terms of resources for people that know how to do early-stage device development or early-stage drug development."•
Please enable JavaScript to view this content.