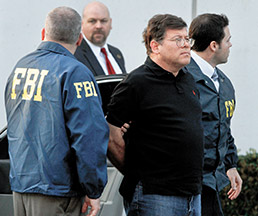 Fair Finance Co.'s bankruptcy trustee has reached a $35 million settlement with a New York financial firm—a deal that paves the way for Tim Durham's victims to finally recoup some of their $205 million in losses.
Trustee Brian Bash had accused Fortress Credit Corp. of turning a blind eye to Durham's Ponzi scheme because it was making millions of dollars as its lender and held first liens on the only company assets with real value.
The $35 million recovery, which requires bankruptcy court approval, is the largest Bash has secured since filing dozens of lawsuits over the last five years aimed at shrinking the losses of the 5,200 Ohio investors who funded Durham's Ponzi scheme by buying high-yield Fair Finance investment certificates. The legal onslaught has yielded millions in fees, but the investors have yet to receive anything.
Bash and the deep-pocketed Fortress had battled ferociously for three years, with the trustee seeking $72 million and the financial firm denying liability. Court records show that by late 2013, Bash already had rung up more than $6 million in legal fees pursuing the case.
In a court filing Monday, Bash said settling will avoid perhaps three more years of expensive legal wrangling and finally put money into the pockets of Fair investors. He said he intends "to make every effort" to make a distribution to investors by the end of 2015.
Kelly Burgan, a Cleveland attorney representing Bash, declined to estimate how much investors would receive. Court records show that as of late February, Fair's bank account held $2.1 million. If the investors were to receive the full $35 million, they would recoup 17 cents on the dollar.
Fair Finance, founded in 1934, specialized in buying finance contracts from fitness clubs, time-share condominium developers and other firms that offered their customers extended-payment plans. But in the years after Durham bought the company in 2002, that business shrank. In the same span, Durham pulled tens of millions of dollars out of the business to support his lavish lifestyle, ply friends and fund other failing businesses he owned.
The company shut down following an FBI raid in November 2009. A federal jury in 2012 convicted Durham of masterminding a Ponzi scheme that relied on the sale of ever-more investment certificates to Ohio residents, and he now is serving a 50-year prison sentence in Kentucky.
When Bash filed the Fortress suit in 2012, he included as a defendant Rhode Island-based Textron Financial Corp., which had financed Durham's purchase of Fair Finance from the Fair family.  However, a judge later that year dismissed Textron while leaving Fortress, which had stepped in to replace Textron in 2007, in the case.
In the original lawsuit, Bash said neither firm was financially exposed to Durham's looting of Fair because each had rock-solid collateral—first liens on the finance contracts the company acquired.
"The sad tale described in this complaint would not have been possible without the knowing and active assistance of [Fair's] lenders," the suit alleged. "Neither Textron nor Fortress cared about the harm being caused" to the company and its creditors because they were almost sure to be paid.
The suit charges that by December 2003, Fair already was operating as a Ponzi scheme reliant on the sale of additional unsecured notes to Ohio residents to stay afloat.
"Notwithstanding the risks involved in loaning to a company that was operated as a Ponzi scheme, Fortress was motivated to make [the loan] because of the substantial fees and interest payments that would be charged to [Fair] for access to the line of credit," the lawsuit alleges.
 
Please enable JavaScript to view this content.