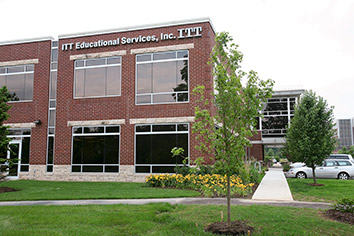 The Securities and Exchange Commission is suing ITT Educational Services Inc. and its top two executives for fraud, the agency announced Tuesday.

Kevin Modany
CEO Kevin Modany and Chief Financial Officer Daniel Fitzpatrick allegedly "engineered a campaign of deception and half-truths" to hide from investors the extent of losses ITT was suffering from private student loan programs it created in the midst of the 2009 recession, according to a written statement from the SEC.
The Carmel-based company operates 135 for-profit colleges around the country, most of them under the ITT Technical Institute brand name. The colleges saw a surge of students during the recession, but ITT also saw traditional sources of private student loans dry up due to the financial crisis of 2008.
So, ITT struck a deal with new lenders that put the company at risk if defaults spiked, which they did.
As of Sept. 30, 2014, ITT Educational estimated it owed more than $262 million on two loan programs known as PEAKS and something it calls the 2009 Entity.
Shares of ITT Educational fell more than 43 percent Tuesday morning after the SEC announced charges, falling to $2.25 per share. Even before those declines, ITT's stock had lost 84 percent of its value over the previous 12 months.
"Our complaint alleges that ITT's senior-most executives made numerous material misstatements and omissions in its disclosures to cover up the subpar performance of student loans programs that ITT created and guaranteed," said Andrew J. Ceresney, director of the SEC's Division of Enforcement, in a written statement. "Modany and Fitzpatrick should have been responsible stewards for investors but instead, according to our complaint, they engineered a campaign of deception and half-truths that left ITT's auditors and investors in the dark concerning the company's mushrooming obligations."
In an email to IBJ, ITT denied the SEC's findings.
"ITT Educational Services, Inc. vehemently disagrees with the U.S. Securities and Exchange Commission's mistaken decision to bring an enforcement action against the company – a decision that endangers all of our students," ITT said. "First and foremost, ESI worked diligently with multiple leading, independent legal and financial experts before making accounting and disclosure judgments on the third-party loan programs that ended years ago.
"Second, we acted in good faith in making these judgments on complicated accounting and disclosure issues. We are confident that the evidence does not support the SEC's claim. We are eager to have the court clear our reputation that has been unnecessarily endangered by the SEC's action."
As examples of statements it regards as misleading, the SEC noted that ITT regularly made payments on delinquent student borrower accounts to temporarily keep PEAKS loans from defaulting and triggering tens of millions of dollars of guaranteed payments, without disclosing this practice.
The SEC also claimed that the payments to cover loan losses that ITT did report were net figures reduced by the amount of future recoveries it projected for many years later, and that ITT did not disclose this approach to investors.
The SEC also cited ITT for failing to consolidate the PEAKS program in ITT's financial statements despite ITT's control over the economic performance of the program.
Last, the SEC accused ITT and its executives of misleading and withholding information from ITT's auditor.
ITT Educational announced April 29 that Fitzpatrick will step down as CFO on Oct. 29. Modany had said last fall that he would step down as CEO early in 2015, but he is scheduled to remain at the helm of the company until May 29.
ITT Educational, which has not filed financial results for several quarters, also announced that its student enrollment continues to drop.
In the first quarter, the company's new student enrollment fell nearly 16 percent from the same quarter a year ago, to 14,100. Its overall enrollment dropped 10 percent, to 51,200.
Please enable JavaScript to view this content.