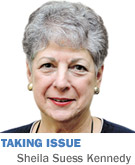 I know Hoosiers are getting tired of postmortems of the Religious Freedom Restoration Act debate, but if we are going to avoid similarly divisive conflicts in the future, it behooves us to debrief, and consider the warring worldviews that generated this one.
Back in 2007, I wrote a book called "God and Country: America in Red and Blue," in which I examined the religious roots of public policy disputes. The research I did for that book led me to understand that a significant number of our most intractable debates can be explained by the conflicting realities occupied by those I dubbed "Modernists" and those I called "Puritans."
My research suggested that these differences can be far more profound than we usually recognize, and their effects aren't limited to the political issues with obvious religious dimensions like abortion, gay rights or the death penalty. Puritans and Modernists have incompatible worldviews; they occupy starkly different realities. Those differences manifest themselves in (no pun intended) fundamentally different approaches to even such seemingly secular matters as economic policy, foreign policy, the environment and criminal justice, the policy domains I examined in that book.
It was while researching "God and Country" that I came across Frank Lambert's illuminating description of the difference between the Founding Fathers and those he calls the Planting Fathers.
The first set, the Planting Fathers, came to the colonies for religious liberty, which they defined as "freedom to do the right thing." They came to America to build a "Shining City on the Hill," and most of them believed that God wanted them not only to follow the "right way," but also to make sure their neighbors did, too. To them, religious freedom meant that government would establish the "correct" religion.
When George Washington 150 years later swore to "faithfully execute the office of President of the United States," he undertook to "preserve, protect and defend" a Constitution those Planters would have found incomprehensible. The new constitution was the product of the men we call the Founding Fathers, and it made no reference whatever to God or divine providence, citing as its sole authority "the people of the United States."
In the intervening 150 years, the philosophical and scientific ferment we call the Enlightenment had changed the way Americans defined liberty.
Most contemporary Americans live in a post-Enlightenment culture. We accept and value science. We understand liberty to mean our right to live our lives free of government control as long as we are not harming others, and as long as we respect the right of other people to do likewise. But a persistent minority use the word "freedom" in the older, Puritan sense of the word.
The RFRA debacle was a product of many things: a lack of civic knowledge that allowed proponents to stoke unrealistic fears and opponents to mischaracterize some of the measure's likely consequences; a political environment that encouraged incivility and demonization; and a greatly underappreciated urban/rural divide, among other things.
But at its base, RFRA was a clash of worldviews that made it impossible for people to communicate. Proponents wanted the "liberty" to disadvantage those whom their religion labeled sinners. Opponents wanted rules requiring respect for citizens' "liberty" to pursue lives of their own choosing without being subjected to discriminatory treatment.•
__________
Kennedy is a professor of law and public policy at the School of Public and Environmental Affairs at IUPUI. She blogs regularly at www.sheilakennedy.net. She can be reached at skennedy@ibj.com. Send comments on this column to ibjedit@ibj.com.
Please enable JavaScript to view this content.