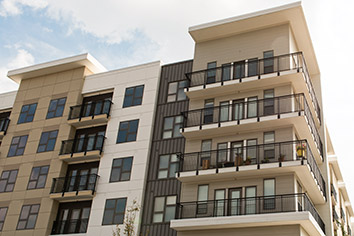 Flaherty & Collins Properties already is selling a stake in its brand new downtown Axis at Block 400 apartment development to cover expensive cost overruns on the project.
The multifamily developer is seeking a partner to bring equity to the project that exceeded its $80 million budget by more than $5 million, company CEO David Flaherty said.
Brokers tracking the multifamily market think demand for the stake will be robust, thanks to strong fundamentals in the Indianapolis apartment market. Despite a building boom that has added thousands of units in recent years, the vacancy rate remains low and average monthly rents continue to climb.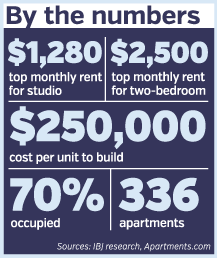 "I'm sure there will be a lot of interest, because people are interested in owning downtown," said George Tikijian, Tikijian Associates senior managing director.
The first phase of Axis, completed this month, includes 336 units. The project, anchored by a 42,000-square-foot Marsh grocery store, is bounded by Michigan and Vermont streets and Capitol and Senate avenues.
Flaherty & Collins expects to spend $35 million to build the second phase on a triangle-shaped parcel between Senate and Indiana avenues to the west. It will feature 160 apartment units and up to 10,000 square feet of retail space.
Construction should start within 12 months and will proceed regardless of whether the firm follows through with its plans to sell a stake in the first phase of the project, Flaherty said.
"We don't need the money to do the second phase," he said. "The second phase, compared to what we're doing all over the country, is a small part of what we're doing."
Flaherty attributed much of the additional expense to unforeseen increases in construction costs and the challenges of building a large downtown mixed-use development.
The developer is seeking an investor to help offset the large amount of equity it dumped into the project. The city kicked in $13 million to build a 1,020-space parking garage, which replaced the surface parking that used to be on the site.
By comparison, Flaherty & Collins spent $33 million to build its other downtown apartment project, the 218-unit Cosmopolitan on the Canal, that's nearly adjacent to Axis.
In 2011, Flaherty & Collins sold a stake in the Cosmopolitan to an out-of-state institutional investor. Flaherty declined to name the investor or provide details of the deal, citing a nondisclosure agreement, but said he swung the deal to free up equity for other projects.
Flaherty & Collins continues to manage the Cosmopolitan and would do the same at Axis, Flaherty said.
Encountering cost overruns on such a large and complicated project as Axis isn't unusual, said Jim Thomas, a partner at local apartment developer Cityscape Residential.
"It's not a plain vanilla development," he said, "so the fact that there are areas that turned out to be more costly or complex is certainly understandable."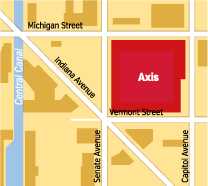 Flaherty & Collins has hired CBRE to gauge interest from potential partners. The developer is leaving the door open in terms of how small or large of a stake to relinquish, Flaherty said. The stake would value the apartments at a premium to the approximately $250,000 per unit they cost to build.
Flaherty & Collins began constructing Axis in February 2013 and started leasing units last summer. It's 70-percent occupied but has been steadily adding tenants since winter, Flaherty said.
Flaherty & Collins' search for an investor comes as it starts construction on its most ambitious project yet—the $121 million 360 Market Square apartment and retail project anchored by a Whole Foods store. The 28-story tower to be built on part of the former Market Square Arena site calls for 292 luxury apartments.
Developers remain bullish on the downtown market despite a proliferation of new units.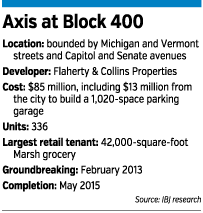 On the east side of downtown along East Washington Street, Milhaus Development LLC is building the second phase of Artistry—two buildings dubbed Mentor and Muse—that will bring the total number of Artistry apartments to 500.
Another Milhaus project under construction, Circa along College Avenue, will include 265 units.
TWG Development LLC has begun leasing the first of the 98 units in Penn Street Tower and is building 478 apartments as part of its Pulliam Square project under construction at the former Star headquarters.
A 2015 national apartment report from California-based brokerage Marcus & Millichap projected that about 3,000 units will be completed in the Indianapolis area this year—a 76-percent jump from just three years ago.
Despite the growth, vacancy still is expected to fall—from 8.4 percent in 2012 to 7.4 percent—while monthly rental rates climb—from $714 to $786.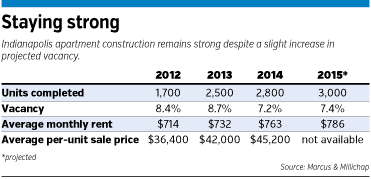 Downtown rental rates are much higher, typically topping $1,000 a month for a one-bedroom unit. At Axis, studios are fetching as much as $1,280 per month and two bedrooms as much as $2,500, according to listings on Apartments.com.
The strong rental rates Axis is commanding should make it easier to attract an investor, said John Sebree, Marcus & Millichap's national director of multifamily housing.
"I have no doubt in my mind [Flaherty & Collins] will find an investor who sees that value and will want to partner up with them," said Sebree, who works from the firm's Chicago and Indianapolis offices.
But Indianapolis still lacks the sizzle of other large cities, the Marcus & Millichap report shows. In fact, the city placed 46th, or dead last, for apartment demand. Pulling down the city's ranking was comparatively high vacancies and low rents.
San Francisco led the pack, bolstered by a robust monthly rental rate of $2,877, second only to New York City's rate of $4,090.•
Please enable JavaScript to view this content.