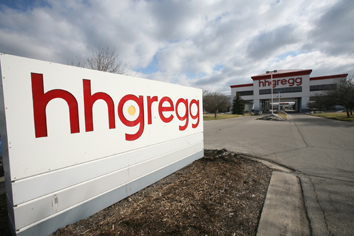 Shares of HHGregg Inc. fell 10 percent Friday morning following the company's larger-than-expected loss in its latest quarter.
The Indianapolis-based appliance and electronics retailer said Friday morning that it lost $25.2 million, or 91 cents per share, for the fiscal fourth period ending March 31. That compares with a loss of $7.2 million, or 25 cents per share, in the same quarter of 2014.
Adjusted for one-time gains and costs, losses were 47 cents per share compared with 17 cents in the prior year.
Analysts had expected an adjusted loss of 24 cents per share.
The disappointing results pushed HHGregg's stock below $5, to $4.75 per share.
"Our top fiscal 2016 initiatives are centered on improving our cost structure through the optimization of our marketing dollars, the reduction of our operating expenses and more efficiently managing our working capital, along with reversing our negative sales trends," HHGregg CEO Dennis May said in a conference call with analysts.
Quarterly revenue fell 9.8 percent, to $485.6 million, missing analyst expectations of $515.4 million.
Sales for HHGregg store locations open at least a year—a key metric in retailing known as comparable-store sales—declined 10 percent.
Comparable-store sales fell in every product category. Appliance sales fell 5 percent; consumer electronics sank 9.8 percent; computers dropped 37.6 percent; and home products decreased 12.5 percent. Appliance sales accounted for 51 percent of revenue and electronics 38 percent.
HHGregg's efforts to improve sales suffered a setback March 23, when the company announced the termination of chief marketing officer Julie C. Lyle, who arrived at HHGregg in December 2013 to help guide its turnaround strategy. Lyle's duties have been absorbed by other officers of the company, according to an HHGregg announcement.
Also, Chairman of the Board Michael L. Smith announced April 16 that he will not seek re-election to the board at the next annual meeting of company shareholders. Smith has been a director since 2005.
For the entire fiscal year, HHGregg reported a loss of $132.7 million, or $4.72 per share, compared to a small profit of $228,000, or 1 cent per share, in fiscal 2014.
 
Annual revenue fell 8.9 percent, to $2.1 billion.
HHGregg shares have fallen more than 35 percent since the beginning of the year.
Please enable JavaScript to view this content.