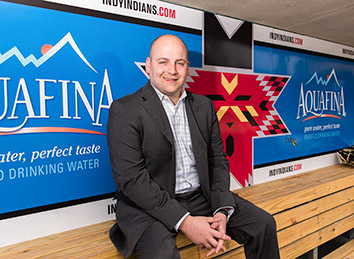 Joel Zawacki turned down his first two job offers from the Indianapolis Indians in 2007, one as an intern and one on a temporary basis.
"I may have been a little overconfident at the time," said the 30-year-old Michigan City native. "But I got my start in negotiating upfront."
At 22 and with a weeks-old University of Indianapolis diploma in hand, he told veteran Indians General Manager Cal Burleson: "I'm ready for a permanent, full-time job."
After talking to officials with the Indiana Pacers, where Zawacki had just finished a six-month internship, the AAA minor-league baseball team threw him a third pitch.
Since Zawacki joined the Indians sales department eight years ago, the team has more than tripled sponsorship sales, to a projected $3.3 million this year—a record for the 113-year-old franchise.
Randy Lewandowski, a longtime Indians staffer who replaced Burleson as GM last year, gives Zawacki much of the credit for the growth.
"The biggest thing Joel did was to bring a fresh perspective," Lewandowski said. "He really brought a different mentality."
Given the maturity of the team and its home market for sports, and the fact that Victory Field is 19 years old, the sponsorship growth "is incredible," said Andrew Zimbalist, a noted sports economist from Smith College in Massachusetts.
Within a year of joining the team, Zawacki was promoted to director of corporate partnerships and in 2012 to director of corporate sales and marketing. The sales staff has doubled to about 20 since 2007.
Zawacki, a self-described junk-ball middle reliever for UIndy, had a few curve balls in his sales repertoire.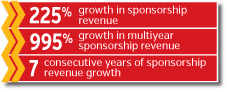 The first thing he did was to push for more multiyear deals. He argued that negotiating more long-term deals would help the sales staff work more efficiently and become interwoven in sponsors' advertising and marketing plans.
"If you come in every year with almost nothing on the books, and you're spending all this time renewing deals every year, there's less time to sign new deals," he said.
Entering the 2007 season, the Indians had $154,950 on the books from multiyear deals signed in previous years. Two years later, that number escalated to $723,750. This year, it was $1.7 million.
Zawacki urged Indians officials to better understand their sponsors'—and potential sponsors'—fiscal calendars and budget cycles.
"I wanted the Indians to be interwoven into the fabric of our sponsors' marketing campaigns, not an afterthought," Zawacki said.
Before he had much success with sponsors, though, Zawacki had to convince old-school titans like Burleson, Lewandowski and longtime Indians Chairman Max Schumacher that his approach was the right one.
Initially, Zawacki said, resistance to some of his ideas was "high."
"I was a 22-year-old kid coming in … but as Cal started to see results and the response from clients, they slowly began to be more open-minded to my ideas," Zawacki said.
Unconventional approach
Zawacki said he brought an unconventional approach to a "very conservative" sales culture. "The approach with sponsors was, 'Here's our menu; pick something off of it,'" he said.
In contrast, Zawacki said, he seldom makes a sales pitch in his initial meeting with a client.
"The one thing I think I brought was listening and figuring out what the client really needed. I don't consider anything I do salesy. It's more consulting."
Zawacki became a master at figuring out unique ways to convey a sponsor's message. This year, his department sold a deal to Chick-Fil-A to sponsor the poles delineating fair and foul balls inside Victory Field. Now, they're called Fowl Poles.


In 2012, Zawacki devised a way to get fans to sign up for a contest sponsored by Indiana Farm Bureau Insurance, which helped generate leads for the insurance company.
"He gets what it means for a sponsor to be a partner," said Melissa Mann, Indiana Farm Bureau Insurance manager of advertising and brand management.
Zawacki and his staff sold sponsor spots inside the dugout, where TV interviews are often conducted, and at a variety of spots on the suite level, where high-rollers and corporate types watch the games. He signed a deal with Toyota by promising to display cars inside the ballpark during games—something that had never been done—and sold naming rights to the lawn seating area just beyond the outfield—another first.
Professor Jennifer Van Sickle, who schooled Zawacki in sports marketing and administration at UIndy, isn't surprised by his creativity.
As part of a project for one of Van Sickle's classes, Zawacki came up with the "Kick it, no ticket" promotion that was used at UIndy soccer matches. During intermissions, students who had received a parking ticket on campus got the chance to try to score a goal past a uniformed campus police officer. If the student was successful, the ticket was forgiven.
"That campaign was a tremendous success," Van Sickle said. "The students loved it. It no doubt drew attention to the matches, and the police department found it to be a good public relations tool. It's one of the most creative campaigns by a student I've ever seen."
Lewandowski called Zawacki "mature beyond his years." Zawacki said that maturity was born when his mother—a two-time cancer survivor—was diagnosed with leukemia when he was in the third grade. His father, a battalion chief with the Michigan City Fire Department, put him in charge of watching after his younger brother, Matt, during that trying time.
"That helped shape my maturity," Zawacki said.
He admitted, though, there were times he felt lost.
"Heading into college, I was clueless," said Zawacki, who graduated magna cum laude in 3-1/2 years at UIndy. "I thought I was going to be an agent. The whole Jerry Maguire thing."
But an internship with the Brevard County (Florida) Manatees, a single-A minor-league baseball team, in the summer of 2006, convinced him he wanted to work for a sports team. With the Pacers later that year, he fell in love with sales.
"I saw the connections within the community the Pacers sales reps were making, and that fit me," he said.
Lessons learned
With the Indians, Zawacki said Burleson and Lewandowski shaped him as much as he shaped the team's sales efforts.
Like many in sports sponsorship sales, Zawacki fought for more inventory to sell. He quickly learned that a naming-rights deal for Victory Field and sponsor signs on the outfield walls were off the table.
Instead of pouting, Zawacki looked for palatable alternatives. In 2010, Indians management pulled the trigger on a $650,000, 120-foot-long, 6-1/2-foot-tall video board on the left-field wall. It was no small investment for a team that has an annual profit of about $1 million.
Burleson set a goal of selling enough ads to pay for the board within six years. Zawacki and his staff covered the expense in two years.
Key to their success was selling ads on the board by the half inning, not by the minute like most teams do, Zawacki said. After taking counsel from Burleson and Lewandowski, he realized it was better to run the digital ads one at a time.
"I listened to what Cal and Randy preached about [not having advertising] clutter in the ballpark, and I came to appreciate that and the value that carries for sponsors," Zawacki said. "It really helped raise the impact of the ads and in the process helped raise the value—and the price we can charge."
Along the way, Zawacki "came to love" the lack of billboards plastered on the outfield walls and the fact that the Indians keep the name of the venue sponsor-free.
"Victory Field, too, has a brand worth protecting," he said.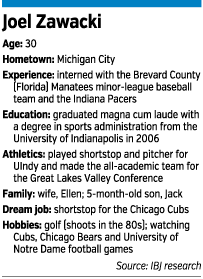 Zawacki, like his mentors, is quick to dish out credit to teammates.
"This isn't a one-man show," he said. "I helped establish the culture, but the [sales] team is cutting the deals now, and they deserve a lot of the credit."
In particular, Christina Toler is a top sponsorship seller and Matt Guay, director of tickets and operations, has ratcheted up ticket sales, Zawacki said.
"When you're bringing in more than 660,000 fans a year—that's more than either the Pacers or [Indianapolis] Colts—that makes it a whole lot easier to sell sponsorships," he said.
In 2014, the team had record attendance of 660,289, beating the old record of 659,237 from 1998. Attendance has risen steadily since the team drew 549,552 in 2009.•
Please enable JavaScript to view this content.