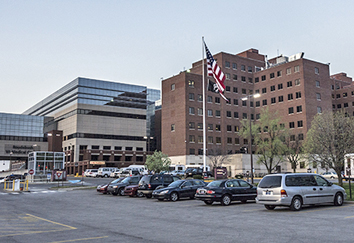 Richard L. Roudebush Veterans Affairs Medical Center has ended a janitorial service contract with Goodwill Industries of Central Indiana Inc., a move that will put 63 janitors and their four managers out of work by Aug. 1.
A VA official said the agency is shifting the work to an internal program that hires military veterans.
Goodwill officials plan to appeal the decision next week during a meeting with VA leaders, said Goodwill spokeswoman Cindy Graham.
"We don't agree with the decision or the process and we are very strongly working to appeal the decision and get the decision rescinded," Graham said Friday morning.
Goodwill has had the janitorial contract with the VA for 10 years under a federal program to provide jobs for disabled workers. Graham said 73 percent of the non-manager workers at the VA have disabilities. Those handicaps could be physical, mental and learning disabilities.
Brad Klawitter, executive officer to the director at the Roudebush VA hospital, said the VA would like to continue a relationship with Goodwill, but he said hiring to replace the Goodwill janitorial workers has already begun.
"As part of our larger mission we support Department of Veterans Affairs efforts to find jobs for veterans," Klawitter said in a written statement Friday afternoon. "We have identified an internal program that is expanding service and has already begun hiring 40 veterans to work at our facility."
Goodwill disclosed the layoffs in a letter to the Indiana Department of Workforce Development on Wednesday. The notice said 32 janitors would be let go on July 1 and the rest of the employees would be dismissed Aug. 1.
"Specifically, the Medical Center unexpectedly ended its longstanding contractual relationship with Goodwill without any prior notice of performance problems," wrote Bryan Bush, Goodwill's director of human resources, in the letter, which is required by the Worker Adjustment and Retraining Notification, or WARN, Act. "Instead, it is believed that the Medical Center has abruptly decided to perform the services previously performed by Goodwill using its own staff."
The Roudebush VA hospital, located at 1481 W. 10th St., saw more than 8,300 inpatients and more than 657,000 outpatients during 2013, the most recent year for which data are available.
If the contract is not reinstated, Graham said, Goodwill will work to find the employees new jobs, either with Goodwill or with other local employers.
Please enable JavaScript to view this content.