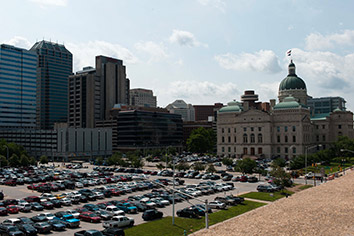 Republic Parking System Inc. has won the right to manage 6,100 state-owned downtown parking spaces, as well as hundreds of parking spots at White River State Park, for up to five years.
The Chattanooga, Tennessee-based company is awaiting a management contract from the Indiana Department of Administration, which selected Republic earlier this month after issuing a request for proposals in the fall.
Executives in Republic's corporate offices didn't return a phone message seeking comment.
The IDOA said the state will pay Republic $16,200 a year in management fees, but the company could earn much more than that. In its response the RFP, Republic said it would agree to take 15 percent of net operating revenue, which, according to past state performance, could be $2.9 million or more.
If the pending contract includes the 15-percent cut of excess revenue, Republic could earn at least $435,000 a year.
The state began looking for solutions to employee parking in 2013 as leases on downtown parking for the Indiana State Department of Health and Department of Child Services neared expiration. The RFP asked bidders to propose a way to accommodate 700 more parkers.
Republic's proposal says the company is negotiating a lease for 700 spaces and would provide a park-and-ride shuttle for $82 per month.
Republic did not propose any change to free parking for all other state employees and contractors. An IDOA spokeswoman said last fall that the state intended to continue free parking in garages on Washington Street and Senate Avenue, and on the parking lot northwest of Ohio Street and Capitol Avenue.
Republic will also manage 862 surface and garage spaces at White River State Park.
Weekend parking could be a revenue opportunity for Republic. The Washington Street garage is used for Indianapolis Colts parking and some NCAA events, but only about 100 state employees need regular weekend access, according to the RFP.
The firm's RFP response noted that "significant savings" could be found in outsourcing parking staffing, the off-site park-and-ride and technology upgrades.
Republic agreed to subcontract with Indiana minority-owned, women-owned and veteran-owned firms. The company said it would subcontract 30 percent to marketing firm Cabello Associates, 15 percent to Essential Architectural Sign Inc., 25 percent to the staffing firm Knowledge Services and 30 percent to Professional Management Enterprises, another Indianapolis staffing firm.
Three other parking management companies responded to the RFP. The next-highest scoring bidder was Denison Parking Inc., followed by SP Plus Corp. A bid from EZ Park of Indianapolis Inc. was eliminated because it was too limited in scope.
IDOA spokeswoman Shelley Triol said the state will execute a contract with Republic after completing a review process.
Please enable JavaScript to view this content.