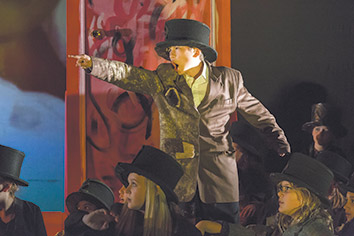 This summer, as part of "The Experiment," a gang of teens will spend a week creating a dystopian society at Pine Creek Camp, west of Lafayette. There, on Dauntless Day, fake tattoos and all-black clothing will be de rigueur, while on "1984" Day, overalls and no makeup are expected. "When society falls apart, things get weird," states the marketing materials for this sleep-away experience.
No, it's not your typical summer camp. But Young Actors Theatre, the company behind it, is not your typical theater company.
Founded in 1976 and based at the Athenaeum, YAT is now the largest youth theater in the city, serving about 1,300 young people in 20 productions a year. And it plays by its own rules. While the tendency elsewhere is to stress the known—Disney adaptations, familiar fairy tales, etc.—or play off "I want to be a star" ambitions, YAT embraces the bizarre and the experimental.
"One of our goals is to be recognized as the most innovative youth theater in the United States in three years," said YAT Executive Artistic Director Justin Wade.
Central to that is an emphasis on "devised theater," a theater term for plays that begin with script-less conversation with the text rising out of the process rather than serving as a blueprint. A production based on the "Little Red Riding Hood" story, for instance, featured 30 kids as both Red and the wolf. YAT's "Pinocchio" variation included avant-garde imagery more likely to be seen off-off-Broadway than in a youth theater program. All the students are on stage for the entire show.
When Wade and his sister, Catherine, took over the theater in the mid-2000s, shifting the program to more innovative work, a handful of students opted out.
"But," Wade recalled, "after staging the first one, we had the best response we ever had to a play. We had record-breaking sign-ups the next season. And all five of those kids ended up rejoining."
The Wades and their board have staffed the company with theater professionals used to experimentation. Creative Director Michael Burke (leaving the company for grad school in Chicago this summer) and Georgeanna Smith, head of acting, are both principals in NoExit Performance, a local company best known for its off-kilter Fringe shows and site-specific theater productions.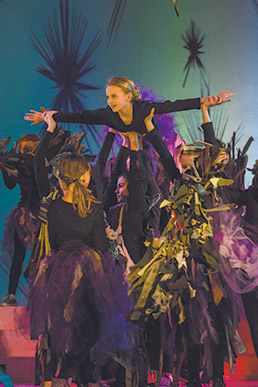 Young Actors Theatre students are on stage for each entire show. (Photo courtesy of Zach Rosing)
"We're very picky about our teachers," Wade said. "An instructor has to be someone innately passionate about kids and not teaching because they couldn't find a theater job elsewhere. And it has to be someone who is a role model … while still being cool and exciting to be around."
Of course, such a program is not for everybody.
"YAT is not for someone who is looking for stories told in the same way they have been told in the past," Wade said. "It's not for someone looking for a traditional theater experience. And it's not for somebody who does not want to be pushed artistically and as a person. We offer a professional experience for every type of kid."
The goal isn't to help a kid get an agent or build a professional career.
"Confidence, creativity and discipline through theater is what we guarantee," he said. "But if you are interested in moving on in the arts, those are the three things you need more than anything. Those who don't go on professionally will be arts patrons for the rest of their lives."
__________
This column appears weekly. Send information on upcoming arts and entertainment events to lharry@ibj.com. 
Check out the rest of IBJ's 2015 Innovation Issue.
Please enable JavaScript to view this content.