The first phase of Carmel City Center is finished, and future phases are well under way.

Three buildings are expected to be reviewed by the Carmel Redevelopment Commission Architectural Review Committee this month. Those include two five-story structures with 63,000 square feet each for luxury apartments and commercial/retail office space.

The buildings, named Holland and Playfair, will be next to each other east of the Monon Trail.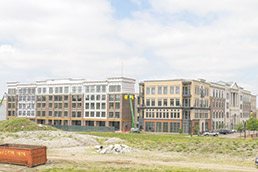 Sections of Phase 2 of Carmel City Center are nearly complete. (IBJ photo/Eric Learned)
The other structure, currently referred to as Pedcor Office 5, will be two stories and approximately 20,000 square feet for office use.

Construction on those buildings and two others is expected to start this fall.

Meanwhile, other City Center components are nearing completion.

The Nash Building on Rangeline Road has already attracted two tenants to the 9,500 square feet of commercial space available: Cincinnati-based Graeter's ice cream and The Art of Kitchen & Home.

Developer Anderson Birkla's The Mezz/Monon Lofts, a pair of buildings on either side of the James Building/Tarkington Theater, is also close to completion.

The $7.7 million project includes 42 residential units and 8,500 square feet of office space. Anderson Birkla headquarters and a fitness company are among the tenants.•