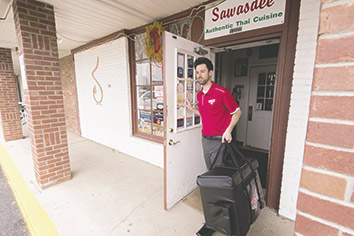 The food might not always be hot, but the local industry that helps deliver it is.
The online ordering and delivery sector in and around Indianapolis is on the rise, with several firms either setting up shop or expanding here, hoping to capitalize on restaurant and consumer demand. Orlando-based Doorstep Delivery, for instance, set up a north-side outpost in April. OrderUp, based in Baltimore, set its stake downtown in 2013 and is looking to expand north.
They're all going after—and landing—restaurants not historically known for delivery, like sushi joints and bagel shops.
While the sector still wrestles with wait times and, in some cases, lukewarm food, the trend suggests a healthy demand for delivery beyond pizza and Chinese food—in cities beyond college towns and Top-10 metros.
"I think people's lifestyles are so busy that this kind of gives them a way to have the food that they want without having to put their clothes on," said Brittany Smith, community director at Yelp Indy. "So without putting your pants on, you can still have the Thai curry that you really like."
Major players here are GrubHub Inc., Yelp Inc.'s EAT24 and Tillster Inc.'s Snapfinger. They boast an array of restaurants on their platforms and take a slice of the revenue—roughly 10 percent to 35 percent—generated from customer orders. 
These firms handle takeout and delivery orders for restaurants but don't deliver the food—that's left to the restaurants to manage. GrubHub is testing direct delivery in a few markets, however.
OrderUp, in 49 markets, and Doorstep Delivery, in 18 markets, are the two national companies here that both process orders and run their own delivery fleets. Local players include Carmel-based Order-In, Broad Ripple-based Total-Takeout.com and downtown-based A La Carte. Food Precinct, which launched earlier this year in Kokomo and Muncie, is in the mix as well.
All the deliverers take a percentage of order revenue from restaurants and charge customers delivery fees starting at $2.99.
"There's a great variety of restaurants in the area," said Jeff Druyetis, the local Doorstep Delivery franchise owner. "The goal of the delivery service model is … to give people a one-stop shop."
The sector's growth is fueled in part by an abundance of smartphones, which empower consumers to order food in a few taps and swipes as opposed to reading credit card numbers over the phone. Nearly two-thirds, or 64 percent, of U.S. adults own a smartphone, according to a Pew Research report published in April, up from 35 percent in 2011.
The prepared-food delivery industry, worth more than $100 billion, has attracted some large tech firms lately. Uber is testing using its drivers for food delivery in select cities, including Chicago. Google is looking to allow online ordering right from its search results, according to media reports.
ExactTarget co-founder Chris Baggott, who's been involved in some of Indiana's most successful corporate exits, is even jumping into the food delivery arena—albeit with a twist. Last month, he told IBJ he's launching food-and-software startup ClusterTruck, which would operate by licensing food-truck menu items, cooking them in delivery-only kitchens, and delivering meals via Uber drivers within five minutes of being cooked.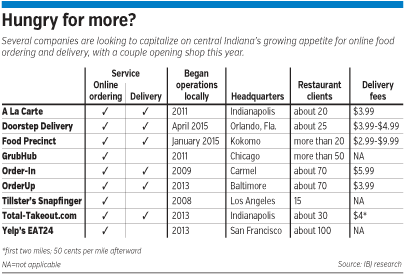 "These are kitchens that are going to be designed for the Internet, not for [walk-in] customers," he said.
The players, the game
It's unclear how much room is left in the local food delivery space, but vendors here don't appear worried. OrderUp Indy, which works with more than 70 restaurants, including Yats and Scotty's Brewhouse, has plans to cover Broad Ripple before Butler University's fall semester starts, franchise co-owner Dan Sherrer said. 
Sherrer
"A lot of those places that don't deliver do get a lot of takeout," the 22-year-old said, noting that they process myriad phone orders. "Even without the money coming in from [third party vendors], saving time and money by not having their employees on the phone is a big deal."
Druyetis, of Doorstep Delivery, said his firm has signed up about 25 restaurants since launching two months ago, including California Pizza Kitchen. The 28-year-old said some of his customers order three times a week. He's eyeing downtown for expansion.
"We're actually looking to acquire another service here in the next couple [of] weeks," he said.
Order-In is one of the largest, and oldest, players in the space. It was founded in 2009 and has about 70 clients in and around the northern suburbs. Scott Wise, president and CEO of Scotty's Brewhouse, said Order-In runs delivery for its Carmel and 96th Street locations, which both lead all of his restaurants in delivery sales.
These and other firms often pitch themselves to restaurants not as order-takers, but as marketers. They say they'll increase brand exposure with no upfront costs, and that they get paid only when restaurants get orders. 
They note that, unlike GrubHub and some others, they'll actually handle delivery logistics. And some companies, like Order-In, even offer traditional advertising services like radio and TV spots.
Food Precinct, which said it has no direct competitors in Kokomo or Muncie, heavily promotes the law enforcement background of its co-owners, calling its black-uniformed drivers "Appetite Agents."
"We'll roll a car out for anything that you need," co-founder Ty Gray said about his firm's $0 minimum order policy. "Food Precinct will bring you out one taco, one Coke."
Room to improve
Despite the growth and bullish prospects, the sector has many shortcomings. First, some restaurants fear their customers might have a bad experience with third-party drivers, which can reflect poorly on the restaurant. Neal Brown, executive chef and owner of Neal Brown Hospitality, said, "Delivery is an extension of your brand. And it's hard to manage third-party delivery services."
Another problem some restaurateurs have noted is the lack of integration between their internal software and the software third-party vendors use. It means that, at some point, a person has to transcribe orders.

Wise
For consumers, delivery fees can climb fairly high, even as the potential for mishaps and lukewarm food increases.
"My expectation might increase a little bit to say, 'All right, dammit, if I order this food and I'm paying an extra $7 for it,'" Wise at Scotty's Brewhouse said, "'it better be hot and it better be correct.'"
Delivery company officials say they strive to get orders to people soon after the food is cooked. OrderUp Indy and Doorstep Delivery, for example, both use maps and time estimates to reduce the amount of time food sits.
"We want [our drivers] to be waiting on the food, rather than the other way around," Druyetis said.

Brown
Brown said that, although the delivery trend seems inevitable, he's not a fan. He views his restaurants, including Pizzology, as "gathering" places—"an extension of the home table."
"I think [delivery] puts another layer between people and their food," he said.
Although some restaurant owners also don't like the third-party deliverers' cut into their profits, Wise said he's not concerned.
For every dollar he collects on a burger from a dine-in customer, he said, he keeps about 70 cents after costs. That figure drops to about 45 cents when online ordering services are involved, but he thinks the extra business they can lure makes the trade-off worthwhile.
"In my opinion, there are a few" customers who become less profitable because they order online instead of coming in. "But there's also 10 to 15 other people that wouldn't have come in, and now I just grabbed their business" through the third-party deliverer.
Smith, of Yelp Indy, agreed.
"I think [delivery] makes [customers] support local businesses even more," she said. "On a night where they're feeling lazy and they don't want to make food, but they also don't want to leave the house, this give them a way to support local business."•
Please enable JavaScript to view this content.