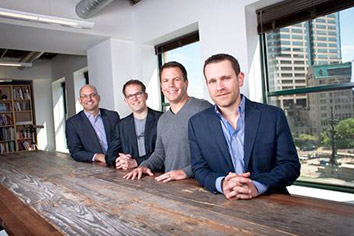 Former ExactTarget CEO Scott Dorsey and three Indianapolis startup mavens have raised $35 million to launch a studio that will create tech companies to capitalize on the growing demand for enterprise software.
The venture is called High Alpha, and Dorsey, 47, is its managing partner. Partners Kristian Andersen, Mike Fitzgerald and Eric Tobias, who also are investors in the seed fund Gravity Ventures, round out the team. High Alpha includes High Alpha Studio, its operating arm, and High Alpha Seed, its investment arm.
The entity aims to take ideas and existing startups, surround them with a bevy of in-house expertise and cash, and help them scale up. The founders said they've each been involved in starting software firms to solve business problems, and now they're trying to solve some of the many problems involved with starting a tech company.
"Our goal is to build high-velocity software companies and allow these companies to go far faster on our platform than they would be able to on their own," Dorsey said. "This is going to be enormous for the Indianapolis tech community."
High Alpha is backed by California-based Emergence Capital, an early investor in Salesforce.com and Box; Maryland-based Greenspring Associates, an early investor in ExactTarget; Chicago-based Hyde Park Venture Partners; and about 50 angel investors, the founders said.
It officially launches Wednesday and already has a few companies at various stages of development under its wing, the founders said. It's using space in Andersen's downtown Indianapolis design firm Studio Science and plans to move into about 10,000 square feet of leased space in downtown's Circle Tower this August.
High Alpha joins an emerging group of so-called "startup studios" around the country that provide expertise and capital to churn out companies that backers hope will generate big returns.
Prominent studios include Santa Monica, California-based Science Inc., which raises companies in e-commerce, and New York-based BetaWorks, which cultivates consumer media businesses.
But High Alpha will be unique, its founders said, in focusing exclusively on business-to-business software upstarts. And it's a hot space, as companies in industries such as banking, health care and retail increasingly spend on cloud-based technology. According to the research firm Forrester, global software-as-a-service revenue is expected to increase to $106 billion in 2016, a 21-percent jump over 2015 projections.
"Enterprise cloud: We think it's a huge market with tons of room that's growing like crazy," Andersen said. "And as every company ultimately becomes a technology company, it means that ultimately our market just keeps getting bigger and bigger."
How it works
One of High Alpha's key goals is to reduce the friction that comes with starting a software company.
Take, for example, a trio of entrepreneurs who have an idea for an accounting software firm. They'd have to design and develop the software, test the product, hire people, decide compensation and fund the operation—among a host of other things.
"You see all the decisions that I have to figure out as an entrepreneur?" Tobias said. "And oftentimes, the entrepreneur is going through those decisions for the very first time."
High Alpha will employ 15 to 20 people to help solve common challenges quickly. Those employees will include developers, designers and subject-matter experts in key disciplines such as finance and demand generation.
The founders said they'll provide many of the ideas for companies. Others will come from existing firms in the Midwest or elsewhere.
High Alpha will place dozens of vetted startups and ideas at the top of its operational funnel and hone in on the most promising candidates.
Andersen said the studio will need CEOs for internally developed startups. He said the founders will leverage their "extensive network of talented executives and operators" to find them. They also expect to nurture High Alpha employees to lead some startups.
Fitzgerald said the studio will strive to strike a balance between helping fledgling companies too much or too little. He said his team will be a resource for entrepreneurs, but High Alpha ultimately wants them to build their own confidence and experience.
"What we're trying to avoid is [having] something take three weeks that should take three hours," Fitzgerald said.
Making money
The investors in High Alpha ultimately will get returns when portfolio companies become profitable, get acquired or go public.
In the interim, investors will have to fund operations and employees.
"The High Alpha studio will perpetually lose money. It's purely an operating company that does not have ancillary sources of revenue," Andersen said. "The way it ultimately returns capital to investors is when the individual companies that are launched at High Alpha experience some type of exit."
High Alpha founders said part of the $35 million they raised will fund companies and the rest will fund operations, but they declined to detail the split.
Don Aquilano of the Carmel-based venture capital firm Allos Ventures lauded High Alpha's structure. He said some studios around the country scramble to create "side-car" investment funds to help keep their portfolio ventures afloat after liftoff.
"The most effective studios are ones that have a robust staff and sufficient capital to provide a runway for these new ventures to grow until such time that they are ready for their first institutional round," he said.
Formidable partnership
Dorsey was part of the trio that started ExactTarget in 2000, leading the firm to a $161 million initial public offering in 2012 and a $2.5 billion acquisition by Salesforce in 2013.
He stepped down as ExactTarget CEO last August and has spent much of his time since advising and investing. In April, he announced that the ExactTarget Foundation he chaired changed its name to Nextech and narrowed its focus to enhancing K-12 technology education in Indiana.
Andersen, 41, and Fitzgerald, 44, co-founded TinderBox, Lesson.ly and Visible.vc, all of which Gravity Ventures invested in. Andersen founded the forerunner to Studio Science in 2000. Fitzgerald was most recently executive vice president of corporate development at Salesforce Marketing Cloud, stepping down earlier this year.
Tobias, 38, a Gravity Ventures investor, was the founder and CEO of iGoDigital, which sold to ExactTarget in 2013. He left the company last month.
High Alpha will be the day job for the four partners, who have been doing related activities part time until now. Lesson.ly, for instance, is the brainchild of Andersen, Fitzgerald and Tobias. Its CEO, Max Yoder, interned for Andersen and started his own Internet polling firm before the trio recruited him to run Lesson.ly.
"It's hard to beat the team that they've assembled," Aquilano said. "I'm, frankly, thankful that Scott and the team are pouring energy into this because it's going to be a huge boost to our ecosystem." 
Please enable JavaScript to view this content.