Two twists are among the details that add personality to Louie's Wine Dive and Mass Ave Kitchen (345 Massachusetts Ave., 929-1644), the new local-sounding Indy addition that's actually a branch of an eat/drinkery with locations scattered around the Midwest.

First, the owner/chef at each location crafts a menu apropos for that spot. I'll get to the details in a minute. Second—and more noticeable for many—is a unique way of dealing with wine. Instead of simply offering some by the bottle and select wines by the glass, Louie's will open any bottle if the buyer commits to at least two glasses. The rest gets added to a chalkboard wine list, making it available to anyone in the joint.

A way of pawning off unwanted leftovers? Don't be a cynic. It actually adds variety to the by-the-glass wine offerings.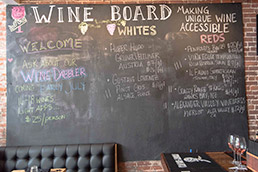 Louie's will open any bottle with a two-drink commitment. The rest of the bottle gets listed on the chalkboard for other patrons to try by the glass. (IBJ Photo/ Eric Learned)
Now, you might have noticed that I don't talk much in this column about alcoholic beverages. That isn't because I'm a teetotaler who, in his spare time, smashes barrels of the demon rum. It's because I just don't have much of a discriminating palate when it comes to wine and spirits. I liked the movie "Sideways" as much as the next moviegoer. And one of the greatest smells I've ever experienced happened when surrounded by bourbon casks in Kentucky. But ask me what I'd like to drink and I tend to say, "Bartender's choice." (Plus, you know, there's the challenge of staying on budget).

Now, about the food. My companion found the Squeaky Cheese ($7) appetizer to be the highlight of the meal. The lighter-than-typical coating on the cheese curds won me over as well, especially with the added layer of flavor provided by the Serrano Dill Aioli dipping sauce.

Like the Squeaky Cheese, you can pick up the BLT Deviled Eggs on the appetizer menu ($7) or as part of a two-course lunch special ($10—and if you are on a tight lunch hour, you can get both at the same time). A worthy variant on the traditional deviled egg, the yolk was a bit runnier than one might expect, but the bacon mustard packed a wallop.

The Corned Pork Reuben ($10) contained an ample helping of what Louie's calls "home-cured pork" and plenty of gooey Swiss cheese. The multigrain bread was nicely grilled, but it could have used more of the pickled red cabbage to give it more zip. The Mass Ave Meltdown ($11) sounds more volatile than it proved to be. But the olive-oil-poached cod with roma tomatoes, serrano dill aioli and cheddar cheese proved, above all, that more sandwiches should be made on naan. The combo worked nicely.

A stop in for Sunday brunch found the same low-key, effective service from the waitstaff. We blame ourselves, though, for making choices that proved too conservative. Nothing wrong with the Drunken French Toast ($10) with its subtle brown sugar and spiced pecan whipped cream, or the Country Fried Steak ($13) with house-made gravy and a choice of eggs. But I might opt for one of the many omelets next time.

Whenever you go, capping the meal off with White Chocolate Bread Pudding ($6) is highly recommended. Not nearly as weighty as expected, it tasted like a really good pastry from a high-end bake shop given a magic—but restrained—touch of bourbon creme anglaise. Certainly worth sticking around for while your friends order another glass of whatever's on the chalkboard.•

—Lou Harry