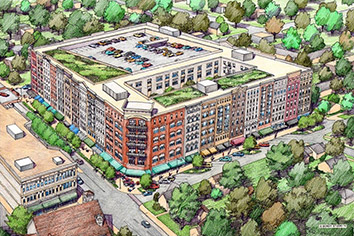 Brownsburg might be a growing burg of 24,000 residents, but its downtown is hardly a hub of excitement. The intersection of Green and Main streets sports dueling CVS and Walgreens on one side and a bank branch and print shop on the other.
But town officials hope plans for a roughly five-story, $70 million mixed-use project a few blocks north will spur additional development and help transform the nondescript downtown into a cluster of retail and residential character.

Kleinhenz
"This would be a very large investment and will definitely be a big boon to our local economy," Town Manager Grant Kleinhenz said. "I think it will lead to other development in and around that area."
The project could feature up to 80,000 square feet of ground-level retail with four stories of apartments above. It would be built on five acres at the northeast quadrant of Green and Franklin streets.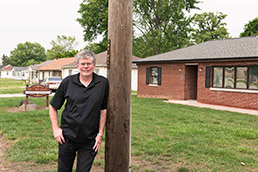 Rick Bolt has owned pieces of the five-acre parcel since 1983 and is seeking a development partner for the project. (IBJ photo/ Eric Learned)
The land is owned by Brownsburg resident Rick Bolt, who has issued a request for proposals in hopes of luring a development partner. Responses are due July 23.
Brownsburg has expanded its tax-increment financing district to include the area where the project would be built, Kleinhenz said. The town might assist Bolt's project by either financing the cost of a 500-space parking garage or funding infrastructure improvements.
The garage, which would be wrapped by the retail and residential units, could cost $7.5 million and is key to attracting more development.
Across Green Street to the west, the town plans to build a $25 million, 80,000-square-foot recreation center on the former St. Malachy Catholic Church and school property.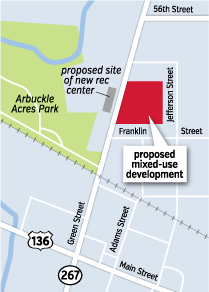 The town bought the land in 2012 and ultimately wants to tie the recreation center to a second mixed-use development, also on the west side of Green Street, connecting the two projects to the adjacent Arbuckle Park. No plans are set for the second mixed-use development.
Like other Indianapolis suburbs—most notably Carmel and Fishers—Brownsburg is attempting to create an identity by building a town center, transforming itself from a bedroom community to a true destination, said Ross Reller, director of land services for Colliers International's Indiana region.
"There's always been a problem with the main entrance of Brownsburg," he said. "It just seemed very unsatisfactory to be a gateway to the community."
Attracting interest
Green Street is the main north-south artery through town and doubled as State Road 267 before the town in 2013 acquired from the state the portion of the roadway inside its boundaries.
A year earlier, town officials completed a comprehensive plan that created an urban zoning classification downtown that provides for minimal setbacks and commercial development rising up to six stories.
The new classification has helped jump-start development conversations.
"Since then, we've seen a lot of interest not only for Mr. Bolt's property but other properties for mixed-use development," Kleinhenz said.
Bolt, an electrical engineer by trade, bought his first parcel on the east side of Green Street in 1983 and has accumulated five acres since. His wife, Nancy, a dentist, practices from an office at the southwest end of the property.
Much of the land is vacant. Several rental properties Bolt owns fronting Green Street would be torn down for the development.
The land was platted in 1940 for single-family lots. But World War II disrupted the building of 26 homes in the center of the block, along with the necessary infrastructure and streets. In the 1950s, home-building shifted to the outer edges of town, with larger lots.
The undeveloped property in the center of the block that Bolt bought in 1988 has remained untouched for decades.
"We knew at some point that it would be worth redeveloping," he said. "But we didn't specifically have a concept in mind."
Brownsburg's 2012 adoption of the comprehensive plan helped encourage him to seek a development partner. Bolt expects to have a minority ownership stake in the project.
George Tikijian, senior managing director of the Tikijian Associates apartment brokerage, said the project can work.
"The only cautionary thing I would say is that they just have to be careful that their expectations aren't that they'll get the same rents as they would in downtown Fishers or downtown Carmel," he said.
Units might fetch about $1.10 per square foot, comparable to other Hendricks County apartment projects, and average 800 square feet to 900 square feet. By comparison, apartment construction in Carmel and Fishers commands rents of $1.25 per square foot.
"We're expecting [the RFP] to generate quite a bit of interest, and so far we are not disappointed," Bolt said.
Summit Realty Group's multifamily housing team is coordinating the RFP process for Bolt. It will narrow the field of candidates to just a few to meet with Bolt and town officials before the final selection, said Amy Burmeister, senior vice president of investment properties.
"All of the pieces are in place," she said. "We just need to find a developer."
Construction could start within 12 months.
Attracting millennials
Town officials, meanwhile, are meeting with wellness providers to find a partner to contribute construction capital for the recreation center and ultimately operate it, Kleinhenz said.
The town will distribute an RFP in September with hopes of having a partner by the end of the year. The design phase could take much of next year, with construction starting in late 2017 or early 2018.
Brownsburg has "several million dollars in hand" to contribute to the $25 million project and also could tap into food and beverage taxes or TIF funds, Kleinhenz said.
The aim is to build the center without requesting a tax increase or taking on debt, he said.
The town also plans to upgrade Green Street by adding turning lanes, curb improvements and decorative elements. That project is partially funded by the state, with construction starting in 2017 or 2018.
The investment is part of a strategy to lure millennials. The projects—and their proximity to Arbuckle Park, which overlooks White Lick Creek and offers a trail system—could help with that goal.
"We know that [millennials] have specific tastes and what they want in living situations and retail," Kleinhenz said. "We're trying to capitalize on that growing demographic."•
Please enable JavaScript to view this content.