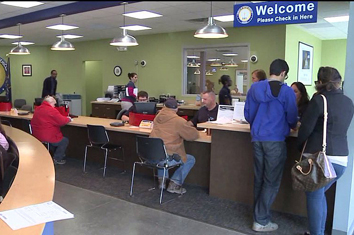 A judge refused on Monday to dismiss a lawsuit alleging that Indiana's Bureau of Motor Vehicles overcharged drivers by tens of millions of dollars for fees and services.
Marion County Judge John Hanley turned down the request from the BMV's attorney and, instead, ordered both sides to talks with a mediator within 30 days.
The BMV's request at a court hearing last month came a week after the release of an independent audit that concluded the agency might have overcharged motorists more than the $60 million it has previously disclosed. It also found the agency lacked oversight and uses a complex fee schedule.
The lawsuit filed in 2013 seeks to force the BMV to return millions of dollars from overcharging for vehicle registrations and other services.
If no resolution is reached through mediation, the case could go to a trial. The two sides previously attempted to resolve the case through mediation, but could not reach an agreement.
Carl Hayes, a private attorney for the BMV, said the agency was receptive to mediation, but that attorneys who filed the lawsuit needed to make a proposal "that makes sense for taxpayers."
"In previous attempts at mediation, there was no indication they were prepared to do so," Hayes told The Associated Press.
Irwin Levin, the attorney who filed the lawsuit against the BMV, said the agency hasn't worked with him to reach a fair resolution.
"This is another opportunity for the BMV to do what's right for Hoosiers," Levin told The Indianapolis Star.
In September, the BMV admitted that it has overcharged state residents $29 million in refunds and a year earlier it settled a class-action lawsuit that accused the BMV of overcharging customers $30 million. The audit also found 10 additional undercharges to motorists.
BMV officials have said the agency won't attempt to recover those undercharges.
The new lawsuit claims up to $40 million in additional overcharges going back more than a decade. The BMV is fighting that claim, but if true it would bring the total overcharges to about $100 million.
Kent Abernathy, who took over as BMV commissioner in February, said last month that internal improvements already have begun, including the hiring of a chief of staff and the formation of a central internal audit team.
Please enable JavaScript to view this content.