The explosion of craft beer is one of the most exciting changes Phil Terry has encountered in his 24-year career with Monarch Beverage Co. Terry, 64, chatted with IBJ recently about the impact of craft beer on the beer-and-wine distributor he leads, which employs 650 people.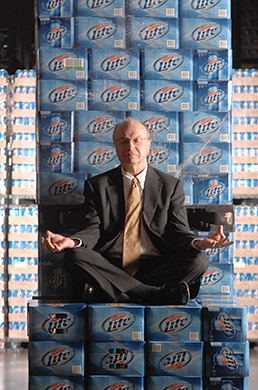 Terry (IBJ file photo)
IBJ: It's 4:30 p.m., and we're talking about craft beer. What is this craft beer craze—this latest one at least—doing to your business?
TERRY: It's changing it in a lot of ways, most of it for the good. In our craft business over the last five years, we're up 55 percent in cases we sell. In 2010, our craft beer sales were 1.2 million cases. Last year, they were just under 2 million.
IBJ: What about revenue?
TERRY: In terms of revenue on craft beer, we're up 75 percent. There are some tradeoffs. People aren't necessarily drinking more; they're drinking differently. On premium light beers, we're off about 6 percent.
IBJ: What's your total revenue for beer?
TERRY: $275 million
IBJ: What portion of your total revenue is from craft beer?
TERRY: It's about 13 percent.
IBJ: What about bottom-line impact? And is distributing local craft brews more profitable than distributing macro brews?
TERRY: Per case, we're making more on craft beer than we would on a box of Miller Lite or Coors Light. But the volume on Miller and Coors is very big.
IBJ: Is craft more popular in Indianapolis versus the rest of the state?
TERRY: I bet we sell three times as much craft in Indianapolis per capita than we do, for example, in southern Indiana. Indianapolis is a very good craft market. The other good ones are Bloomington and Lafayette.
IBJ: You distribute a bunch of craft beers—big national ones like New Belgium and Bell's, to locals including Triton, Flat 12 and Oaken Barrel. How do you build the lineup and why should these breweries partner with you?
TERRY: The argument we make for them is, we have the investment in people and trucks and buildings they might not be able to get on their own. A craft brewery can do a very good job hitting craft-centric bars and liquor stores. But if you want to get to a smaller town in southern Indiana or penetrate the grocery market, we think we have a story to tell on how to add value.
Indiana craft brewers don't have to use wholesalers. In 2010, we sold 91,000 cases of Indiana beer. Last year, we sold 320,000 cases.
IBJ: Are there any downsides?
TERRY: It makes the operation more complex. If most of what you're selling is Bud, Miller and Coors, you don't have as many packages or deals with as many suppliers. Our number of [stock keeping units] has increased about 90 percent on crafts in the last five years, to about 2,000.
IBJ: Did you get your facility size about right? Would you do it differently today?
TERRY: By dumb luck, moving here six years ago and putting in the automated system we did, adding more SKUs is not really a problem. We just add more slots in the machine.
IBJ: Boston Beer Co. CEO Jim Koch says craft beer is still in its infancy. Do you agree?
TERRY: Unlike Jim Koch, my crystal ball is cloudy. I just know the trend is that this is growing. Compare Indianapolis to a market where crafts are much bigger, like Portland, which has a 30-percent share of craft beer. We're 6 percent. There's a lot of room for growth.
IBJ: What's your favorite incumbent beer, and what's your favorite newcomer?
TERRY: That's kind of like asking a parent, "Who's your favorite child?" They're all great.•
Please enable JavaScript to view this content.