Glenn Lyon has served as CEO of local athletic-shoe and -apparel retailer The Finish Line Inc. since 2008. With the dramatic changes retailing has undergone in recent years, Lyon says he's become agnostic about whether customers buy online or at its brick-and-mortar stores, but believes in the future of shopping malls.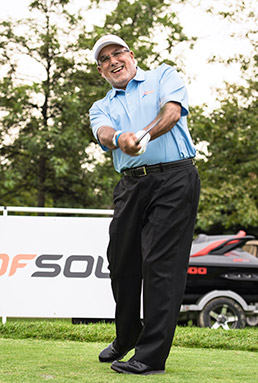 Lyon (IBJ file photo)
IBJ: How can a retailer meld online and brick-and-mortar outlets into a seamless business?
LYON: Retailers can't afford not to have a seamless business, because our core customer is 18 to 29 years old. They live with their smartphones and it's the way they get information, and it's the way they find out everything in their lives. Our ability to connect with them through their devices is what drives them to commerce through that phone or to a store. Whether they're getting that through their phone or some sort of social media, that's how they connect. To them, there is no line. We don't even think about it as a line. It just all blends together.
IBJ: Has Finish Line fully accomplished this, and what are a few of the biggest challenges the company has faced?
LYON: This is ongoing. This is not a revolution that is happening, it's an evolution. It's so different. Just look back even just five years ago. Pinterest was just something that was coming on the scene and Twitter was gaining traction. But it's moving so fast; social sites are coming and going. The challenge you face is moving at the same pace as the customer. We're always about new product, and new product is what drives our business, but you have to communicate about the new product through all these media so the customer knows what you have.
IBJ: What are some of the incentives Finish Line might offer shoppers to buy from stores?
LYON: It's their choice whether they go to stores or shop via the Internet. It doesn't matter to us. The biggest incentive that we offer customers is our loyalty program. Roughly two-thirds of our customers are loyalty members. You spend $200 and you get $20.
Almost more important is the information we spread through that program, with all the communication that we do with product launchings and the brands. The amount of information is far more important than the dollar incentive, and that's clear to us. It is all about being where they want you to be.
IBJ: What would be an ideal percentage of online sales the company is shooting for, to ensure that stores continue to bring traffic?
LYON: I used to predict this, and we started out at 10 percent. We went to 15 percent. Last quarter, we were up to 20 percent of the business. I don't know where it all levels out, and the truth is, I don't care. We have to deliver where they want us to deliver. But clearly, you have to be nimble. You have to be as good physically as you are digitally, and they'll determine. As long as we grow total sales, on a comparable basis, that's the key.
IBJ: Where do you see retailing in 10 years?
LYON: I see the mall as alive and well 10 years from now. There may be less malls, and the determination as to traveling a bit further to go to a mall, is undoubtedly where this is going to head. If I said 800 to 1,000 [malls] is the most society will see over the next 10 years, that's plenty of locations for us across the country. At the end of the day, what's going to matter is that the quality and innovation in our product will keep our customer interested, and then we'll decide how we want to deliver to them. But they clearly want to connect with us in multiple ways.•
Please enable JavaScript to view this content.