A lawyer and photographer who sued hundreds of people claiming copyright infringement of his Indianapolis skyline picture must pay almost $34,000 in legal fees to a defendant who never used the image.
McCordsville attorney Richard Bell sued Charles Lantz in a copyright infringement suit that named about four dozen defendants – one of many such suits he's filed against people who posted his skyline photo online. Bell claimed defendants used his copyrighted image without first paying a licensing fee of about $200.
Bell said last year in an interview with IBJ sibling publication The Indiana Lawyer that he typically claimed unlicensed use of the photo was worth $1,500, but he settled with most defendants for various sums.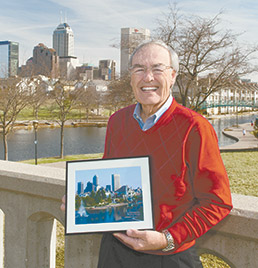 Richard Bell, posing with the photo he took of the Indianapolis skyline, may appeal the court order that he pay the legal fees of a person he claimed used his photo illegally. (IBJ File Photo)
Bell withdrew his complaint against Lantz after learning through interrogatories that Lantz never infringed the photo. But Lantz didn't go away, suing Bell for his attorney fees and costs. Judge Tanya Walton Pratt of the U.S. District Court for the Southern District of Indiana awarded Lantz $33,974.65 on June 8.
"Mr. Lantz took a stand against a plaintiff who was using his knowledge and status as a practicing attorney to file meritless suits and to attempt to outmaneuver the legal system." Pratt wrote. "Consistent with the purposes of the Copyright Act and its provision regarding an award to prevailing parties, and to advance considerations of compensation and deterrence, awarding Mr. Lantz his attorney's fees and costs is appropriate."
Bell said last week he was likely to appeal the ruling and seek further review.
"When looking to Mr. Bell's motivation for filing this action, the Court finds that Mr. Bell's motivation is questionable. Mr. Bell has filed a multiplicity of suits in this Court, each involving the same or similar infringement allegations. In many of these copyright infringement suits, Mr. Bell has improperly joined several defendants, thereby saving him extensive filing fees," Pratt wrote. "In this case alone, Mr. Bell sued forty-seven defendants and then quickly offered settlements to defendants who were unwilling to pay for a legal defense."
During the course of the litigation, defendants were severed. In a separate case last year, Bell was ordered to sue defendants individually. He has filed no similar suits since, according to the Southern District's electronic filing system. Bell said he's still pursuing copyright infringement cases.
"I don't believe I filed any this year," he said June 9. "They all settled."
"The Court is persuaded by Mr. Lantz's argument that the motivation of Mr. Bell in filing this action appears to be an attempt to extract quick, small settlements from many defendants instead of using the judicial process to protect his copyright against legitimate infringing actors," Pratt wrote. "This factor weighs in favor of awarding attorney's fees and costs to Mr. Lantz."
Indianapolis attorney Paul Overhauser represented Lantz and said the award only brings Lantz even financially and "does not compensate for the emotional distress he has endured during the past three years as a result of Mr. Bell's wrongful suit."
Overhauser said he originally sought about $25,500 in fees, but the total rose because Bell reopened discovery against Lantz after he petitioned for fees.
Bell argued in opposition to the motion to award fees that Lantz had failed to notify him that he'd sued the wrong defendant; that Overhauser's hourly billing rates were excessive; and that Lantz failed to mitigate his fees. Pratt found those arguments unavailing.
Pratt wrote Bell's argument that Lantz failed to mitigate fees was without merit. "In reality, Mr. Lantz denied liability at his first opportunity – in his Answer," Pratt wrote. "Mr. Lantz 'laid low' throughout the litigation, thereby reducing the expense of the litigation. Mr. Lantz's fees increased as his counsel was required to respond to Mr. Bell's filings. … (I)t appears that Mr. Lantz may have taken the most economical approach feasible in this action."  
The court gave credence to Lantz's arguments that an award of fees in a copyright case should be based on factors outlined in Fogerty v. Fantasy, Inc., involving the former lead singer of Creedence Clearwater Revival, John Fogerty.
In a copyright suit brought against him by his former record label, Fogerty prevailed, and the Supreme Court held prevailing defendants in a copyright suit must be held to the same standard as prevailing plaintiffs in regard to an award of attorney fees.
Under Fogerty, the award of those fees is left to the court's discretion based on the frivolousness of the suit, the losing party's motivation, the objective reasonableness of the action, and the need to advance considerations of compensation and deterrence. Pratt ruled for Lantz on each of those factors.
Overhauser, who also writes one of the nation's widest-read intellectual property law blogs, noted Congress is taking a hard look at abusive copyright litigants.
"This ruling should serve as a warning to litigants and their attorneys who file infringement suits without first vetting the facts," Overhauser said in a statement.
Please enable JavaScript to view this content.