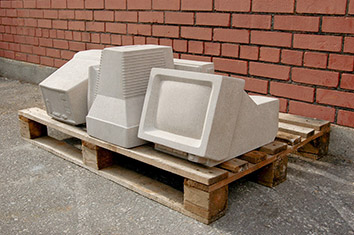 "Material World," the group exhibition running through Aug. 2 at the Indianapolis Art Center, brings together the work of 10 artists from across North America who all "push the boundaries of materials in today's world."
Ideally, that statement translates to inviting viewers to see in a different light either the object being represented or the material being used. And, at its strongest, "Material World" is the kind of show that offers a jump-start for the brain, leading one to look at objects beyond the gallery walls in a fresh way.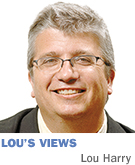 Some of the works in the show are a bit obvious—you can readily imagine what Suzanne Proulx's "Dust Bunnies" both look like and are made of (and the kid TV show "Big Comfy Couch" beat her to the joke more than 20 years ago). And Aaron Nemec's video pieces, such as "Dedication," with nine people in a "Brady Bunch" grid independently trying to sing "I Will Always Love You," beg the question, "And ….?"
But Laura Moore's limestone computer equipment certainly makes you look at bulk objects in different ways. Erin Elizabeth's "On Passivity," with its cake-tower-like structure of colorful gold-pointed pencils not doing their jobs, proves both witty and thought-provoking. Her pairing of a packed-with-gilded-confetti snow globe with another nearly empty one under the name "When it Rains it Pours" might seem jokey at first, but it resonates, as do many of her other pieces on display here.
Barbara Kendrick's nightmarish use of action-figure heads is, indeed, the stuff of nightmares. And Jessica O'Hearn's bold white objects seeming to grow out of carpet hats feels somehow apocalyptic.
If you like recycling projects filtered through a funhouse mirror, take in Proulx's "Cow Skull" series in which milk jugs—with no attempt to hide their sell-by dates and other evidence of their origins—are transformed into animal remnants. Millie Tibbs' folded and then digitally printed landscapes hint at the way memory and place distort each other, though having seven similar works on display diminishes their individual impact.
Concurrently, IAC is featuring the work of artists Gail Simpson and Aristotle Georgiades in a separate show, although both artists could easily have been fused into "Material World."
Georgiades takes chairs, stairs, ladders and doors, and distorts them out of their usefulness. Simpson works similarly with lawn ornaments and rocking horses, grafting them together so that snowmen and wise men appear to have been caught together in a transporter beam. Their once-innocuous smiles take on a creepy vibe, speaking to, I think, issues of conformity and acceptance in community. What do we put on our lawn and why? And what would happen if it became something else?•
__________
This column appears weekly. Send information on upcoming arts and entertainment events to lharry@ibj.com.
Please enable JavaScript to view this content.