Two hedge funds have been beefing up stakes in Indianapolis-based Noble Roman's, a 43-year-old pizza chain with a depressed stock price and an evolving business model.

New York-based Red Alder Master Fund LP, which has $200 million in assets under management, and Atlanta-based Privet Fund LP, with $137 million under management, each have boosted their share counts above 5 percent within the past year, a threshold at which investors have to file public disclosures.

Red Alder owns 7 percent of the company, according to the latest fillings, and Privet owns 14 percent. Red Alder's founder joined the Noble Roman's board in the spring.

Paul Mobley
The moves come as the pizza chain says it is seeing some traction with one of its latest ventures—a take-and-bake offering in grocery stores. The segment accounted for about a third of the company's revenue last year, but is on track to make up more than 50 percent by 2017, founder and Executive Chairman Paul Mobley said.

"It's a great source of revenue, and it's seen good growth in revenue," Mobley said about the segment, which is projected to grow more than 75 percent in 2015.

Noble Roman's was founded in 1972 at Indiana University as a fast-service restaurant, but it's now a franchisor with more than 2,300 locations. Its main segment comprises so-called non-traditional venues, places like convenience stores that prepare pizzas for customers. Its two other segments are stand-alone "Take-N-Bake" locations and grocery stores, which encourage people to cook freshly assembled pizzas at home.

Its grocery presence has grown rapidly since debuting in 2010, accounting for 1,500 Noble Roman's locations. Mobley said grocers often use existing deli space and equipment when they sign on as licensees.

Its non-traditional franchise model, which has been the subject of unsuccessful lawsuits by failed franchisees, has been around about 15 years. The company introduced its stand-alone franchise model in early 2014.

The company earned $1.7 million on $7.9 million in revenue in 2014—five-year highs on both the top and bottom lines. Still, for much of the past decade, investors have hardly been pleased with Noble Roman's business recipes.

Outside of a stock-price pop in 2007, Noble Roman's shares have mostly traded under $2 over the last 10 years, including a low of 32 cents in 2008. The company had a $40 million market value when the stock closed at $1.95 on June 17.

Some investors think Noble Roman's stock is a good value, including Red Alder. The firm bought more than 500,000 shares from Nov. 9 to Dec. 5, according to a December filing, giving it 1.1 million shares, or a 5.3-percent stake. It has raised its stake further since then and owned 7 percent of the company as of April.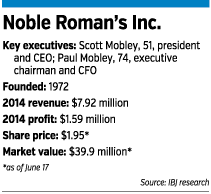 Privet purchased nearly 800,000 shares so far this year, including more than 255,000 last month. Its roughly 3 million shares gave it a 14.5-percent stake in the company, according to May filings.

Neither investment firm could be reached for comment.

Both firms have a history as activist investors, but there are no indications they plan to materially challenge the strategy at Noble Roman's. They have, however, made suggestions.

Red Alder, for instance, said last winter that it believes the company should renegotiate its debt so it can engage in "a significant share repurchase."

This spring, Privet nominated two board members in hopes of expanding the Noble Roman's board from four to six members. But after Noble Roman's added Red Alder founder Schuster Tanger, creating a fifth board seat, Privet withdrew its nominations.

"Though a move in the right direction," Privet said in its public filing, "Privet believes the Corporation and shareholders would benefit from having additional independent directors on the Board to represent the interests of shareholders."

For much of its history, Noble Roman's board comprised three members: Paul Mobley, 74, who founded the company in 1972; his son Scott Mobley, 51, who joined in 1992 and assumed the CEO reins last November; and Douglas Coape-Arnold, who joined in 1999.

Jeffrey Gaither, a Bose McKinney & Evans partner, joined an expanded board in 2010.

Tanger joined the board in April, and agreed to a standstill period that effectively limits him from engaging in any real or perceived activism until August 2017.

Mark Foster of Columbus, Ind.-based Kirr Marbach, which manages a $659 million fund, said standstill periods usually last a year and represent a truce of sorts between companies and investment firms.

"We'll stop buying stock and stop publicly agitating you if you do these things: Buy back some stock, spin off this division, do this or whatever," Foster said about typical standstill agreements.

Both hedge funds have flexed their activist muscle elsewhere, according to media reports. Alder, for instance, pressured women's clothier Ann Taylor to sell itself last summer. And Privet has been an outspoken critic of restaurant chain J. Alexander's LLC and metal-cutting solutions firm Hardinge Inc., at times targeting them with disparaging press releases.

Privet and Red Alder are relatively small firms, Foster said, but with small-cap companies like Noble Roman's, they have the ability to assume large stakes and, consequently, increase influence.

"Activist campaigns are up significantly ... and they've dropped down to a lot of small companies," Foster said.•