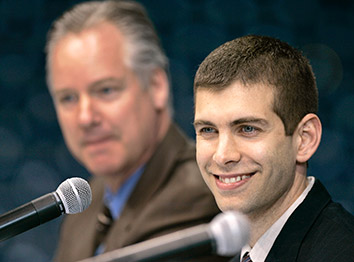 By now, the Indiana Pacers' draft pick is in, with the fondest wishes on Pennsylvania Street that he turns out to be Mr. Right. Isn't that the way it is with draft decisions—something between scratching numbers on lottery tickets and buying something off Amazon?   
You take your chances, you pay your money, you hope for the best. Or at least not the worst.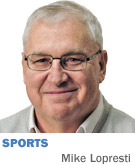 To mark the occasion, we have meandered through the past to find five personnel selections that had enormous impact on sports in these parts. None of the decisions were as no-brainer as they seem now.
April 18, 1998   
Sure, Peyton Manning over Ryan Leaf seems a gimmee putt. Now. But consider this excerpt from Bill Polian's book.
"The closer we got to the draft, the louder the 'noise'—opinions from draft media analysts far and wide—became, until it reached a crescendo. You were hearing all of the negatives about Peyton Manning. "He's a product of the system … He's not a good athlete … He has a weak arm … He can't win the big one." On the contrary, you were hearing nothing but accolades for Ryan Leaf: "He's a natural thrower … He has a cannon arm … He can make people miss when he runs … He's the second coming of Roger Staubach."   
Polian watched a little more film, talked to a few more people— and stayed with Manning. You know the rest. 
What if it had been Leaf? Now introducing your Los Angeles Colts.    
June 22, 1987   
The public was nearly of one mind about the Pacers' best option with their 11th pick in the 1987 draft. Steve Alford was a state deity. Steve Alford would fill the seats and charm the sponsors.    
But General Manager Donnie Walsh stood up in front of a crowd in Market Square Arena and announced … Reggie Miller. Then he did a 4.3 40 getting off the stage.
"I had gotten booed off the stage when I took Chuck Person the year before, so I was a little gun shy going out there," Walsh said this week over the phone. "I was out of there in a second. Somebody told me they might shoot me. I said, 'Well, if they do, I'm not giving them a stationary target.'"
The unhappy crowd was only wrong by 25,279 career points. "I'd love to tell you that I knew he would become what he became," Walsh said of Miller. "But I didn't." 
What if the masses had been appeased? Probably no NBA Finals, no choke gesture to Spike Lee, no Bobby Leonard shouting "Boom Baby!"   
April 5, 2007    
With Todd Lickliter off to Iowa, Butler needed a basketball coach. The program had reached a stage where some established men might be interested, so why not scan the nation?
Instead, athletic director Barry Collier—eager to continue the Butler Way—looked inward, interviewing all three assistants: Matthew Graves, LaVall Jordan, and this young kid who had worked at Eli Lilly. Brad Stevens, age 30.  
Maybe it was a bit of a risk, because how much do you know for sure about assistants? "If you were looking for a fail-safe witness protection plan, it would be to become an assistant coach," Collier said this week. "Nobody knows who you are or what you do."
And though Collier was "somewhat" given pause by Stevens' tender age, he saw too much to like. "I wouldn't say it was easy. It was convincing," he said of Stevens' case, which included smarts, integrity, extraordinary communication skills and an understanding of how Butler works.
"Having said all that I didn't know he would be the most successful coach ever when we offered him the job. So he was even better than I thought he was," Collier said. "He came out and just hit it out of the park."
What if it had been someone else? Blue II might never have seen the Final Four. 
April 1975   
The first time Indiana State assistant Bill Hodges went to French Lick, Larry Bird's mother slammed a door in his face. No, she snapped, her son was not interested in going to college. Leave him alone.
But college recruiters are noted for persistence—and travel mileage. So Hodges went looking for Bird, whose first response was refusal. He'd tried college very briefly in Bloomington and didn't like it. He was back home and had a job— painting curbs and picking up garbage for the town of French Lick. What did he need college for? But Hodges kept selling, and pretty soon Bird was a Sycamore.  
If there was a Mt. Rushmore of Indiana basketball, Bird would be in the middle, between Oscar Robertson and John Wooden.
What if Hodges had taken no for an answer? Imagine the first sign you might see upon driving into French Lick: Larry's garage. 
March 27, 1971
Indiana University basketball was a mess. There were issues with dissension and performance. Whom to fix it? There was talk about Bobby Leonard. That would be staying in the IU family. Or Norm Sloan, a Lawrence Central product at North Carolina State. It had been 48 years since Indiana had hired a coach who was not a former Hoosier, but athletic director Bill Orwig, seeking discipline, was drawn to an Ohio State man at Army. Bob Knight.   
What if he had gone another direction? Imagine Indiana with three fewer national championships —and one fewer thrown chair.•
__________
Lopresti is a lifelong resident of Richmond and a graduate of Ball State University. He was a columnist for USA Today and Gannett newspapers for 31 years; he covered 34 Final Fours, 30 Super Bowls, 32 World Series and 16 Olympics. His column appears weekly. He can be reached at mlopresti@ibj.com.
Please enable JavaScript to view this content.