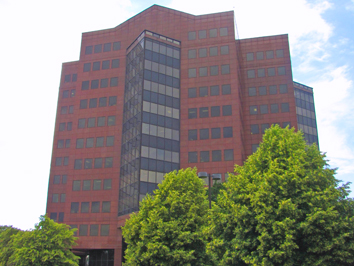 Fairbridge Properties has purchased the downtown Landmark Center for $23 million, the New Jersey-based real estate investment firm announced Monday morning.
The 12-story, 305,000-square-foot office tower at 1099 N. Meridian St. was sold by locally based Ambrose Property Group.
IBJ reported the pending sale in April, but the deal didn't close until last week.
Ambrose bought the building out of receivership in December 2013 for about $8 million.
The complex was only about 30-percent occupied after insurer Baldwin & Lyons Inc. left the building and moved its headquarters to Carmel.
Ambrose invested roughly $5 million in the building and added a fitness center and yoga studio, full-service cafeteria and conference facility.
Less than 90 days after closing on the sale, Ambrose had the building almost completely leased, mostly due to the additions of Angie's List Inc. and the Disciples of Christ.
Angie's List occupies four floors totaling about 100,000 square feet. The Disciples of Christ took 60,000 square feet by moving its 195-person headquarters from 130 E. Washington St.
Other tenants include Consolidated Care, Jacobs Engineering Group and U.S. Citizenship and Immigration Services.
Landmark currently is 94-percent leased, with six years remaining on the average lease term, Fairbridge said. The company expects the center to be fully occupied by late summer.
Fairbridge said it was drawn to the building by its excellent condition, stable tenant roster and ideal location, just south of Interstate 65 and the northern edge of downtown.
"On every one of these counts, Landmark Center perfectly fits the profile of assets in our portfolio," Fairbridge founder and managing partner Dmitry Gordeev said in a written statement. "It is in outstanding condition with first-rate tenants and a location in a low-vacancy area."
The complex was built in 1984 and counted Emmis Communications Corp. among its first tenants.
Fairbridge has recruited the local office of DTZ to manage the property.
CBRE office brokers Andy Banister and Dan Richardson represented Ambrose in the transaction. Eli Mills and Tucker White, also of CBRE, represented Fairbridge.
Gordeev founded Fairbridge in 2012. Headquartered in Princeton, New Jersey, the firm acquires, develops and manages commercial properties valued from $10 million to $45 million.
 
 
Please enable JavaScript to view this content.