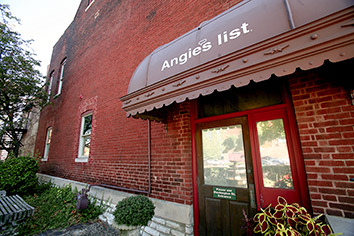 Longtime Angie's List Inc. CEO Bill Oesterle has officially resigned from the company and its board of directors while one of his lieutenants takes the reins during the search for a permanent successor.

Mark Howell
Oesterle announced in April that he soon would step down from the company that he's led for most of its 20-year-history. His last day was June 30, and Chief Operating Officer J. Mark Howell was named interim CEO effective Wednesday, the company said.
As interim CEO, Howell will see his pay boost by an extra $20,000 a month, according to the firm. His base salary in 2014 was $391,400.
Howell, 50, joined Angie's List as COO in March 2013. He previously spent 18 years at Indianapolis-based BrightPoint Inc., a supply chain services provider for the wireless industry. Howell assumed various executive roles at BrightPoint including president, chief operating office and chief financial officer.
After BrightPoint was acquired in 2012 by Ingram Micro Inc., Howell became president of its North American region. He departed in early 2013.
"Angie's List has a strong and talented management team and the company remains focused on executing against its marketplace strategy," said John Chuang, chairman of the company's board. "Mark has extensive leadership experience in a public company setting and, having served successfully as Angie's List's COO for more than two years, has a deep understanding of the company's strategy and operations, which will be critical during this transition period."
Angie's List said it expects to soon craft a separation and transition agreement with Oesterle, whom it wants to be on call for help until a permanent CEO takes over.
Oesterle's exit to become more active in state and local politics comes as Angie's List faces an increasing number of competitors in its market niche–connecting consumers with a wide array of service providers, such as plumbers, home remodelers and doctors.
In June, Angie's List filed a federal lawsuit against online goliath Amazon.com, charging the company stole service-provider lists and other proprietary information in its quest to build a direct competitor named Amazon Local.
Angie's List shares have declined 53 percent over the last 12 months, including a 6.4-percent drop during midday trading Wednesday to $5.76.
IBJ Media co-owner Mickey Maurer is a board member of Angie's List, as well as an investor.
Please enable JavaScript to view this content.