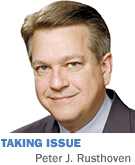 Reaction to the Supreme Court's 5-4 gay marriage decision (Obergefell v. Hodges) has focused on its outcome. If you favor same-sex marriage, you're delighted. If you oppose it, you're dismayed.
If you are among the diminishing few who believe "who" decides, and "how" we decide are more important than "what" is decided, you're in fine company. So did the founders, as have responsible judges throughout our history.
But your beliefs took a beating in Obergefell, regardless what you think of its result. What masquerades as "constitutional analysis" in Justice Anthony Kennedy's majority opinion is a naked claim of judicial power, with five justices able to create new constitutional "rights" based on their superior moral views.
The opinion abounds in orotund pomposities pretending to be insights, starting with sentence one: "The Constitution promises liberty to all within its reach, a liberty that includes certain specific rights that allow persons, within a lawful realm, to define and express their identity."
Oh, sure. Madison, Adams, Hamilton—they were all about creating a "lawful realm" so folks could "define and express their identities." This is Kennedy as philosopher king, striving to be profound and (worse) believing he's succeeded. These "straining-to-be-memorable passages," as Justice Antonin Scalia's dissent notes, abandon "disciplined legal reasoning" for "the mystical aphorisms of the fortune cookie."
The pretentious blather foreshadows what the majority will do for its vision of "liberty," which transcends that of the Constitution's drafters. None of these dreamed "due process" and "equal protection" compelled authorizing same-sex marriages. No one—including the five unelected judges who just decreed the Constitution compels just that—contends otherwise.
But ah, says Kennedy, earlier generations "did not presume to know the extent of freedom in all of its dimensions, and so they entrusted to future generations a charter protecting the right of all persons to enjoy liberty as we learn its meaning."
But the "we" are not the people, who can adopt statutes or amend the Constitution to protect new rights based on new learning about liberty. No, Kennedy's "we" means the justices. Any five of these may find new "rights" arising "from a better informed understanding" (meaning their understanding) "of how constitutional imperatives define a liberty that remains urgent in our own era" (whatever that means).
One can agree with Obergefell's policy preferences. Over the past decade, there's been vigorous debate on same-sex marriage. Over the past few years, proponents have been prevailing, persuading increasing numbers of their fellow citizens. Whatever one's views on the issue, this is how democratic change is supposed to happen.
Effecting such change via judicial power, creating new constitutional "rights" when judges believe their personal policy views so demand, is the opposite of democratic. It also undermines the charter the founders entrusted to us with the Constitution.
As with Scalia, "it is not of special importance to me what the law says about marriage. It is of overwhelming importance, however, who it is that rules me. [Obergefell]'s decree says that my Ruler, and the Ruler of 320 million Americans coast-to-coast, is a majority of the nine lawyers on the Supreme Court."
Whatever one thinks of Obergefell's result, no one should be happy about who made this policy choice for the nation. Judges are ill-equipped to make such choices, and have no constitutional warrant to do so. The court disregards this at its peril. So do we.•
__________
Rusthoven, an Indianapolis attorney and graduate of Harvard College and Harvard Law School, was associate counsel to President Reagan. Send comments on this column to ibjedit@ibj.com.
Please enable JavaScript to view this content.